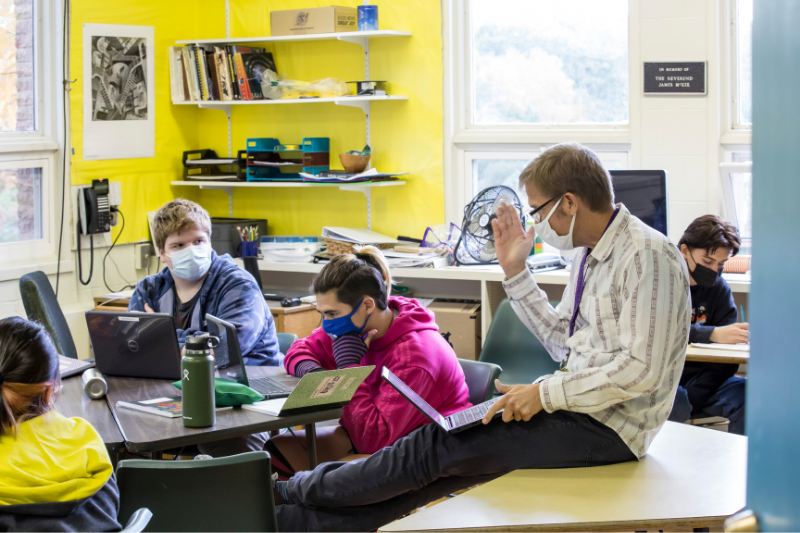 Students who are anxious, have struggled in school in the past, or have even had extremely negative experiences with teachers start the year understandably wary. As math teachers, we often have students who have a long history of hating math and feel very alienated by the entire subject - either because it is challenging for them or because they are advanced and have been bored with traditional teaching methods. So not only do we need to cultivate a relationship with students that helps them feel safe, seen, and cared for, we also need to help make the subject matter less intimidating.
The Start of School
One way we approach the first few classes is by creating activities and lessons that are open-ended. Our students often come into math class with the idea that math is black and white and answers are either right or wrong. We hope to expand their understanding of math and emphasize that math, like most things, can offer many different ways to approach a problem. The process is often just as or even more important than the answer. Here's an example of an activity we used in the first week of classes this year:
Flash the following pattern of dots on the screen for an instant.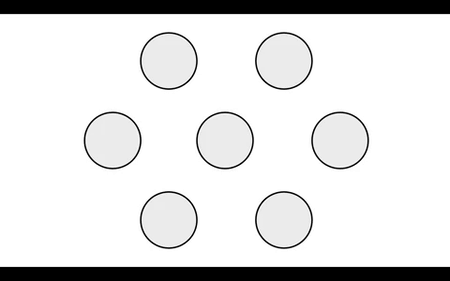 Recalling the image from memory, how many dots are there, and how did you get there? Did you visualize a pattern to help you remember AND count the dots?
The next photo shows the variety of ways the students and teachers visualized the dots. The patterns are helpful in their own way in counting and visually beautiful symbols of the problem at hand!
The Lesson Learned
What's important about this problem is not getting the answer right (7 dots). What's key is the process - how one arrives at the correct answer. There are multiple, equally legitimate ways to get there, and students can extrapolate that having more than one method of approaching a problem is a way of checking your work. Getting the same answer using different approaches is a powerful way to gain confidence and develop math thinking skills.
In addition, working together to solve problems or sharing different methods of solutions with classmates without judgment is an essential part of learning and reinforcing math skills. In these early activities and classes, students can begin to create a safe space for themselves and their classmates. Listening to one another and sharing ideas is crucial to making the class more engaging - yes, even in math class!
Number Talk
This kind of beginning-of-class problem is what some math educators call "number talk." One resource for this approach to math is Jo Boaler's work, and she has many valuable resources for educators on her site YouCubed.
An Ongoing Process
We want to emphasize that building relationships with students and creating a safe environment to try out new ideas is an ongoing process. It's not something that can be done through one activity or even one week of introductory work. However, starting with a strong foundation and setting the tone at the beginning of the school year can help students approach math class with a more open mind.
Resources
How to Combat Math Anxiety with Hands-On Learning
Spotlight on math anxiety, NCBI National Institutes of Health
Why Do People get so Anxious about Math?, TedEd [Video]
Fending Off Math Anxiety, New York Times
--------
Written by Michael Coleman and Hans Manske
Michael Coleman, Ph.D., is a Math Tutor at Rock Point School and was a college instructor in applied mathematics and mechanical engineering (including engineering graphics and design). In his spare time, Mike is a cross-country skier, biker, photographer, piano player, and artist.
Hans Manske has taught field courses in Sequoia, Yosemite, Yellowstone, Redwood, and Rocky Mountain National Parks. Returning to New England, he designed environmental science and math curricula. For the last six years, Hans has been the owner of SoYo Frozen Yogurt in Burlington's South End. Outside of work, he loves skiing in the winter, paddleboarding in the summer, hiking all year, and watching his kids grow up.