College Counseling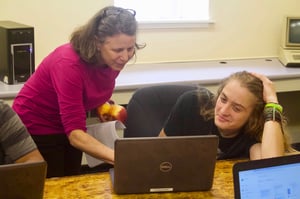 Senior Seminar made the college application process not nearly as hard as I thought it was going to be. Having designated time to work on applications was very helpful, as was having someone to guide me through the process. I worked hard, but it helped to have someone to read over my work and to have conversations with. And I got into my first-choice school.

Senior, 2013
The support my daughter and I received during the college application process was invaluable. The insight and guidance helped my daughter articulate her ambitions, strengths and challenges in a strong, authentic voice. Emily turned writing a college essay into a process of self-discovery that helped my daughter recognize and appreciate her own accomplishments–and won her acceptance at the two colleges of her choice. She also helped my daughter grapple with the pros and cons of taking a year off first and found a terrific gap year program that my daughter ultimately chose.

Parent, class of 2012
At Rock Point School, we approach life after high school the same way we approach your growth while you're here: we think with you about who you are and what kind of college or program could be a good fit for your strengths, interests, and needs.
Senior Seminar, which meets weekly, helps seniors with the process of exploring and applying to colleges and programs. The seminar gives students a step-by-step introduction to the college application process, and students get help individually with their applications and essays. Meeting weekly as a group creates a sense of community and shared purpose, even as students may be making very different plans.
Senior year is an exciting, vulnerable, growth-filled time. Planning for life after Rock Point School helps students gain new maturity and skills. When students invest in this process, they're investing in themselves, and they make wise choices as they consider what they want and what experiences will continue to support and challenge them to move toward greater and greater independence.
We provide many resources for students and parents to help them explore options and to apply to schools and other programs.
Click here for more information about college acceptances.
During this gap year, our son is displaying a new confidence, as he saves money, engages in international travel, prepares for an outdoor leader program, and gets ready for college in the fall – all fantastic opportunities we wouldn't have foreseen even a year or two ago.

Parents of a recent Rock Point School graduate
I credit you for helping me get into college and put together a fantastic application.

Graduate, 2010
One of the most important resources was provided in our son's senior year, with the tailored-to-the-student approach that was so vastly different from what we had experienced elsewhere.

Parent of a Rock Point School graduate