The personal, emotional, and social wellbeing of a student is as important as his or her achievement in the classroom. In everyday life at Rock Point School, students explore their physical, emotional, and spiritual health. Through countless experiences, students learn to manage their time and find a healthy balance between work and play. Our activities in the dorm are geared toward art and culture, outdoor recreation, and community service.
Life Skills Class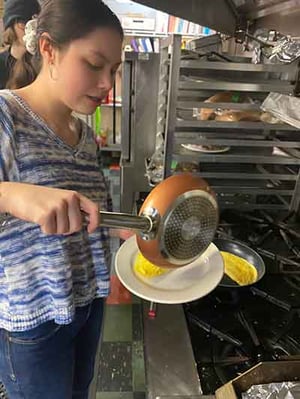 Life Skills class happens once a week in the afternoon. The class is a space to explore skills that students will need as they transition off into the world after high school. During the class students will learn about living well, developing critical thinking skills, and practicing those skills in order to do them independently. Teenagers have to make daily decisions (about nutrition, relationships, and more) that affect their health and their sense of themselves. In this class, students practice everything from making an omelet to techniques for stress relief. Life skills class, in addition to all of the formal and informal mentoring in the school program, helps them become more educated decision-makers, now and in the future.
Advising Program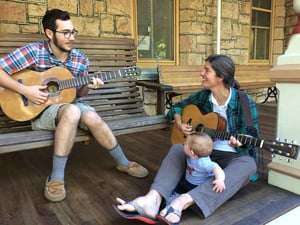 One of the cornerstones of our school is the advising system. Each student is assigned a staff member as an advisor when they begin at Rock Point School. Advisors meet with students once a week and they work with the student to develop a Personal Learning Plan throughout the year. This plan can be partially about academics, but often personal goals are a significant part of the plan. Goals can be anything from getting a part-time job to creating healthy friendships. Advisors also check in with students about basic self-care such as getting enough sleep, doing laundry, and eating well. Advisors communicate weekly with parents about students' successes and challenges. For our students, advisors are the staff members that they often go to not only to help them problem-solve, but also the person they go to when they want to decompress with a fun activity or walk around campus. The advising relationship is one that both staff and students cherish.
Therapy
Many students at Rock Point School see a local therapist in Burlington as a continuation of the therapeutic work they have done at home or at a therapeutic program. Our Dean of School works to connect students and their families with a therapist best suited to their needs.
Support Groups
Depending on the needs of our students, we provide access to a variety of internal and community support groups. Internal support groups have included a social skills group, focused on working specifically on building social skills, and a Gender and Sexuality Alliance in conjunction with another local high school. Community support groups include AA meetings or youth groups at Outright Vermont (support for self-identified queer, trans, and questioning youth).