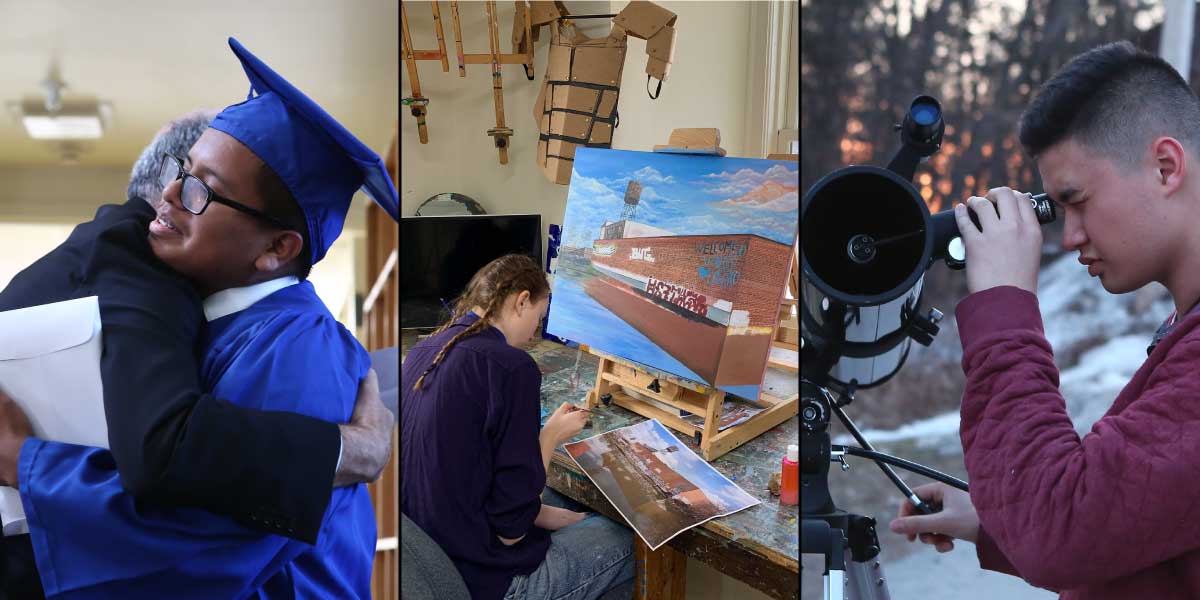 What does success mean at Rock Point?
"Success" has many definitions in our school community. Being successful means finding a passion and a purpose in life, becoming self-aware, and learning to be competent and confident in your skills. Sometimes being successful means trying something new, conquering a fear, or experiencing joy. Most importantly, we believe that success means moving forward along your own trajectory. This means measuring progress from your own starting point, not by comparison to others or to arbitrary standardized norms. To do this you must learn your own strengths and vulnerabilities, understand what motivates you, and practice self-advocacy.
Discover the rich variety of success stories shared by former Rock Point School students who have gone on to be accomplished in school, in work, and in their personal lives.
Jeremiah, class of 2018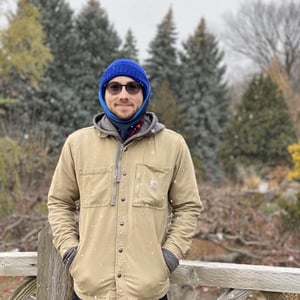 One of the most important skills I learned at Rock Point School was to have high standards for myself: always getting work done, and always doing it at a good rate. In the past, I had a tendency to wait until the last minute. At Rock Point, I learned how to maintain a routine with homework and socializing –– something that I rely on now that I'm in college. While I was at Rock Point, staff members helped me to feel more confident and less anxious about my school work.
The best part about the academic program for me was individualized attention. I excel in math and STEM subjects, so I needed an accelerated program in those subjects, but I struggled in the humanities and needed help outside of class with writing. That individual attention from my teachers helped keep me going on the right track and identify my strengths and weaknesses so I could improve.
In my time at Rock Point, I became a better community member. I volunteered at the Vermont City Marathon, helped at the food bank, worked in the maple sugaring program, and contributed to daily work-crews. Helping to make the community better made me feel better, and that's something I've carried with me to college.
Rock Point also helped me find a passion for music. Beforehand, I'd only played music for a year or so, but I realized I could play with other people at school, so I bought a guitar. In my free time, I started playing with the Chef, Kevin, and we played at a few school events together. It really helped me to find that passion inside myself. Now, at Saint Michael's College, I'm going to be a music minor, and I started a band with some friends. It's really blossomed into something I love.
Julia, class of 2015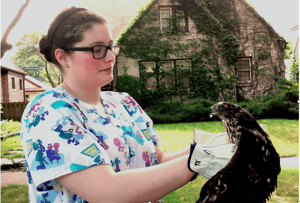 I joined Rock Point in the middle of my sophomore year of high school. I, like many of the other students, had stories of not quite working out in public high school or struggling with issues at home, primarily because I was very shy and anxious. Then the suggestion came that I should go to boarding school, and the eternal joke was born "My mom got sick of me and sent me to boarding school all the way in Vermont." I'm from Wisconsin. But, in reality, I was very comfortable once I settled into Rock Point since I had spent many summer vacations across Lake Champlain in the Adirondacks of New York.
Rock Point was the difference I needed to be successful in school. When I first arrived, I was able to receive one-on-one time with teachers that I needed to fill up gaps in my education. As I grew more confident I was encouraged to step out of my comfort zone and truly grow as a person. I was a speaker in front of more than 500 at an Episcopal convention, became work crew supervisor, maple ambassador (ultimately being named "Maple Pope" my senior year), and was the student representative for the Energy Efficiency Cooperative at Rock Point. While I continue to have some issues with anxiety, I had been given the tools to manage it and to succeed.
After I graduated from Rock Point School, I went to Cornell College in Iowa and obtained a Bachelors of Arts in Biochemistry and Molecular Biology. I graduated Summa Cum Laude and was selected for Phi Beta Kappa, Mortar Board, and Beta Beta Beta. During college I studied abroad in the Bahamas, Belize, and Mexico. The studying habits and anxiety management tools I learned at Rock Point helped with all my college activities.
My next step is veterinary school. I have applied, and I am waiting to hear if I have been accepted. I know the foundation Rock Point gave me will continue to help me succeed.
Will, class of 2013
Although I wasn't too enthused about the idea of going to boarding school, I must say my Mom caught my attention when she talked of a school in the snowboarding capital of the east coast with dogs running around the hallways. In late middle school I found myself getting into trouble almost constantly both at home and at school, but my teachers seemed to be bewildered at my uncanny combination of wanting to learn yet also wanting to disrupt class. It's as though I couldn't make up my mind, because I was good at both.
Once at Rock Point, (after realizing the dogs were quite tame), I found myself in an environment where being myself was completely okay, which I think is crucial in the development of a teen. The staff and students made the place both a learning environment and a home, and it wasn't before long when I started to really feel myself growing. I might never be able to fully express my gratitude for the help of the Rock Point community in the absolute transformation that I underwent in my time there. I discovered my musical talent while playing the chapel piano, my love for social interaction with the mix of students that I lived with, and I got through high school with good grades and valuable lessons I'll never forget.
After high school I took a gap year where I did quite a bit of traveling, and got really into the outdoors. I took a two-month-long Outdoor Leader Course with Outward Bound which really caught my interest in the field of Outdoor Education. I attended Green Mountain College for two semesters before deciding that my desire for hands-on learning doesn't fit well with the traditional classroom setting. I am now writing this a day before I leave for Spain, where I will be training to be an Outdoor Rock Climbing Guide. I've been working at making this happen for a while, so it feels so good to be here! Making music, which I first really discovered at Rock Point, is still a part of my daily routine. I am so thankful that Rock Point and the wonderful community that came with it set me up with the tools I needed to create a rich, fulfilling life for myself!
You can listen to Will's beautiful singing/songwriting here.
Sarah, class of 2009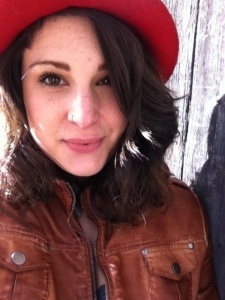 I came to Rock Point School as a sophomore. My parents wanted to find a school that would offer me something that public school had not. Throughout middle school and into my first year of high school I struggled both socially and academically; I was a defiant and careless teen, and that was reflected in my poor grades. My parents were tired of hearing of all the "potential" I had, and they were ready to see my potential manifest into success. Originally the option of whether or not I would attend RPS was left up to me, but after I found myself in more trouble, the decision for me to attend Rock Point was made by my parents.
I entered RPS as a rebellious 16 year old, and I graduated a month before I turned 19. I worked to turn much of my life around during the time I spent there. I learned to try, to fail, and to keep trying. At Rock Point I was taught the skills that I needed in order find success. The school's focused environment and the individualized attention I received helped me make advancements both academically and emotionally, and within my first two semesters it was clear that I belonged at the school.
I made drastic personal transformations in my time there. I learned to understand and to accept growth within myself. Being there gave me a set of tools that I needed when entering the adult world; it taught me how to ask the right questions, and then how to seek the answers myself. After graduating I went on to attend a small, private college in Boston. But after a year I realized the school wasn't right for me and transferred to UVM, where I graduated with a bachelor's degree in elementary education and a minor in special education.
Pam, class of 2005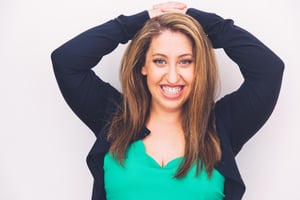 After graduating from Rock Point School I went to Knox College, where I double majored in Psychology and Youth Outreach Through the Arts. At Knox, I was a resident advisor and continued to do theater, comedy, and improv––directing the improv team for three years. I went on to get a Masters Degree in Child Advocacy and Policy with an emphasis in inclusion practices for adolescents with disabilities. I currently live in New York City where I am the director of a teen mental-health initiative called Here.Now., an innovative program that focuses on mental-health, wellbeing, and resilience through creativity. I also tour with a one woman show that is a hybrid of stand-up comedy and storytelling, with a message of creating inclusive communities and embracing differences.
Rock Point taught me what success felt like and how to hold myself accountable. Specifically, Rock Point supported me as I figured what I loved about myself and cheered me on as I continued to set my goals higher. It was there I learned that even though I was just a teenager, I had the capacity to make positive and lasting change in my community. The lessons I learned while at Rock Point are a part of my life every day and play a huge role in the person I've become.
Tim, class of 1993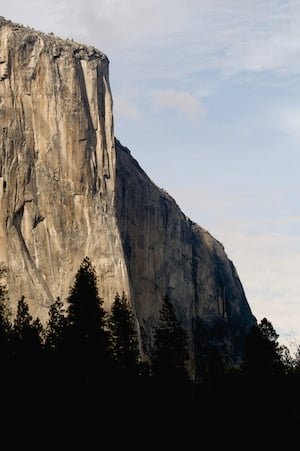 My home life before coming to Rock Point was–and I'm really being charitable here–chaos. This, combined with the fact that I was sixteen and lacked a fully formed prefrontal cortex, made the concept of "doing homework" something I chose to admire from afar.
But at Rock Point, I found an environment where teachers and staff provided a dependable, supportive and flexible structure. Something as simple as having a quiet time each night dedicated to focusing on studying made a huge difference. The rules were enforced consistently and were all in place for rational reasons, all of which were explained to us, but at the same time, the size of the school allowed for flexibility–creativity and individuality were encouraged.
Once I'd demonstrated the ability to work independently, I might, for example, be allowed to spend the study hall hour working on my own, making prints in the dark room. I still love photography, and the photo above is one I took of El Capitan in Yosemite National Park.
After two years at Rock Point, I applied to and was accepted at UVM. While I was excited, I was nervous about going from such a small, intimate high school to a university with thousands of students. I was repeatedly reassured that I was ready for college, and I couldn't quite believe it. But, a few weeks into my first semester, I found that yes, my education at Rock Point really had given me the perfect foundation to succeed in a college setting. In fact, I felt in many ways that by living away from home, I had developed a level of independence that helped me adjust to the pressures of college life. Just as important, it had also instilled in me a number of passions: for photography, different cultures, politics, and even foreign languages.
I remained aware of how the academic and living skills developed at Rock Point served me throughout my years at UVM, at an immersive Spanish language program at Middlebury College, at my job at the medical school, and years later, in law school. What I learned at Rock Point is still a huge part of who I am today.
Lizz, class of 2002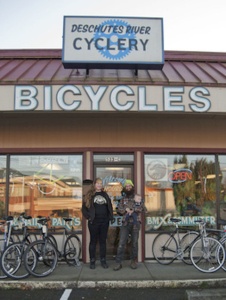 I live outside of Olympia, Washington on an eight-acre self-sustaining communal farm with my partner, our three-year-old son, and way too many dogs. We also own a small bicycle shop in town called Deschutes River Cyclery. Graduating from Rock Point gave me the confidence of knowing myself, as well as the ability to follow my interests, which brought me all over the United States, Canada, and Spain, before I settled in the Pacific Northwest. I am grateful to have attended a school where my personal strengths and quirks were supported and not overlooked, as they were in a larger educational system where I had previously felt left behind.