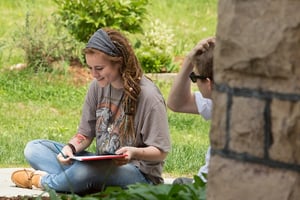 Rock Point School offers a full experience to students who have just graduated from high school and could use another year to strengthen their academic and personal skills. Post-graduate (PG) students benefit from being part of a tight-knit community with strong values focused on honesty, accountability, care for self, and care for others. They will develop leadership and self-advocacy skills, as well as a sense of increased confidence, maturity, and responsibility. Students will experience a greater awareness of their strengths and interests, and feel better prepared to move on to the next part of their journey. College admissions professionals tell us time and again that they look favorably on a strong PG year performance, as it is a reliable indicator of strong performance in college.
PG students attend classes in our Core 3 (composed mainly of 12th graders), allowing them the chance to strengthen their core academic skills. They also take full advantage of the rest of our program, including community service opportunities, regular exercise, taking trips around Vermont and beyond, making art, connecting with caring adults who act as role models, making friends, and belonging to a community. Since we aim to help Postgraduate students to build a bridge between high school and beyond, we work to provide them with chances to go beyond the bounds of the Rock Point program. This may mean taking on an internship or job, taking a college class, or spearheading an initiative on campus.
PG students also participate in our college-planning seminar: a guided process for students and families to help with college preparation, including individual help on applications.