English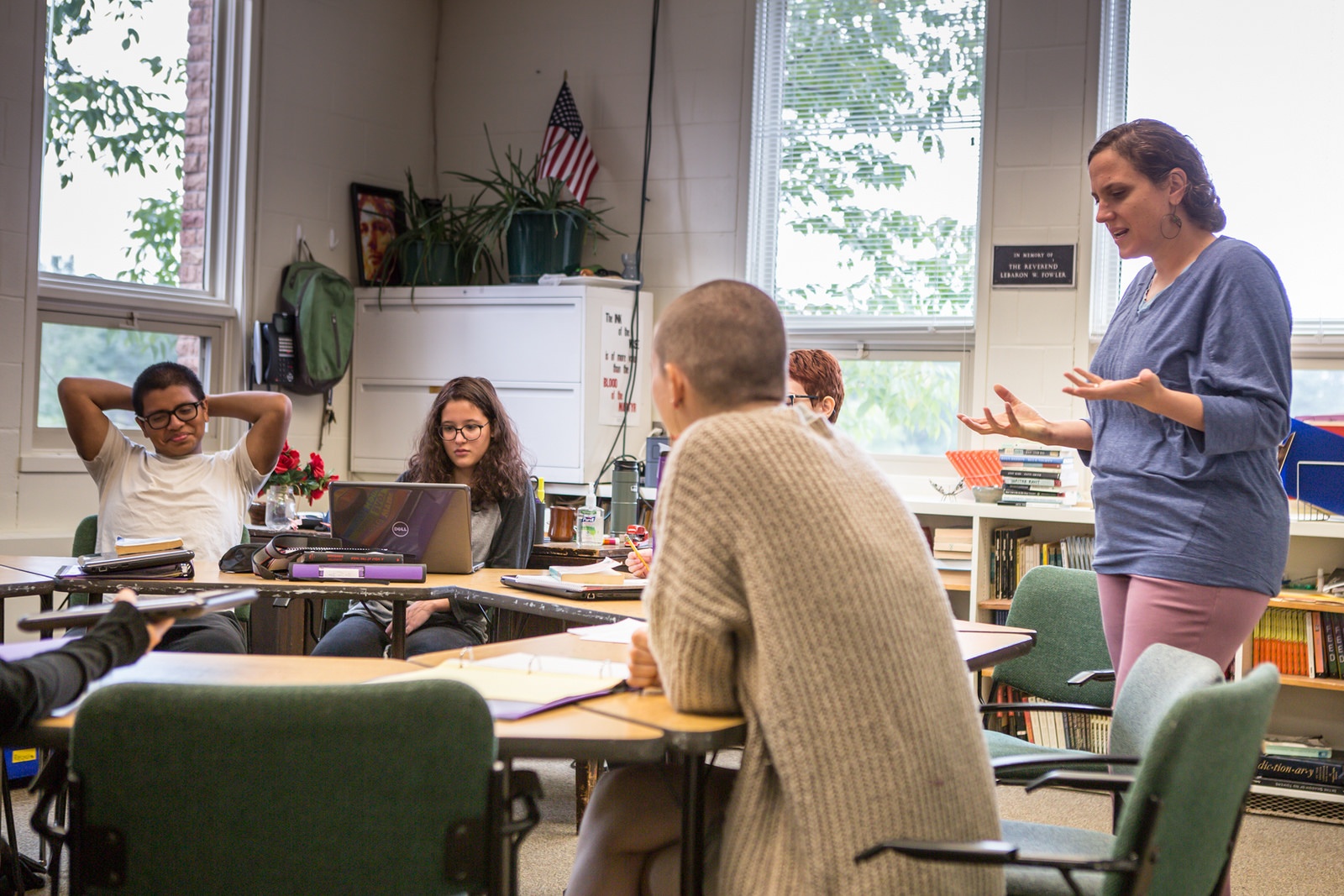 The overall goals of the English program are to develop students' appreciation of literature, encourage a lifelong habit of reading, and guide students to speak, listen, read and write with increasing depth and sophistication.
Students may study classic works such as The Catcher in the Rye, Macbeth, or Jane Eyre, learning about the historical context of the work and spending time discussing how a classic work relates (or doesn't) to their lives, as well as to the current social or political world. The curriculum also includes many contemporary authors such as Toni Morrison, Tim O'Brien, and Julia Alvarez, and students explore how these texts connect to the world they live in and the literature that came before. Students practice many modes of writing, including poetry, personal narrative, fiction writing, and analytical essay-writing. The class encourages all students to find their voice, to think of themselves as capable writers, and to develop habits for getting support and feedback to improve their writing. Longer-term writing assignments are broken into manageable parts, and there is emphasis on the process of writing (brainstorming, outlining, drafting, getting feedback, revising), not just the final product.
In addition to these classroom activities, students attend performances at the Flynn Theater, attend workshops led by dancers and actors, watch relevant films, take field trips, and are exposed to art, all of which allows them to connect to texts in a variety of ways. Students are given differentiated assignments and assessments that both appeal to their interests and challenge each student individually.
The English department also exposes students to opportunities outside the school. In the past several years, we have taken part in the Vermont Young Playwrights' Program, the Share Your Heart, Share the World poetry workshop, held a Visiting Writers Series, and even hosted a Night of Poetry at Phoenix Bookstore with our student poets and local writer, David Huddle. We love giving our students opportunities to meet writers, be exposed to local events, and find ways to share their work with the world.
In English class, students grow academically and personally. Literature is a springboard for them to consider their own intellectual, creative, and moral development. Some skills that are developed in the English curriculum are:
reading comprehension

critical thinking

essay-writing

researching

public speaking

group discussion

test preparation

time management & organization