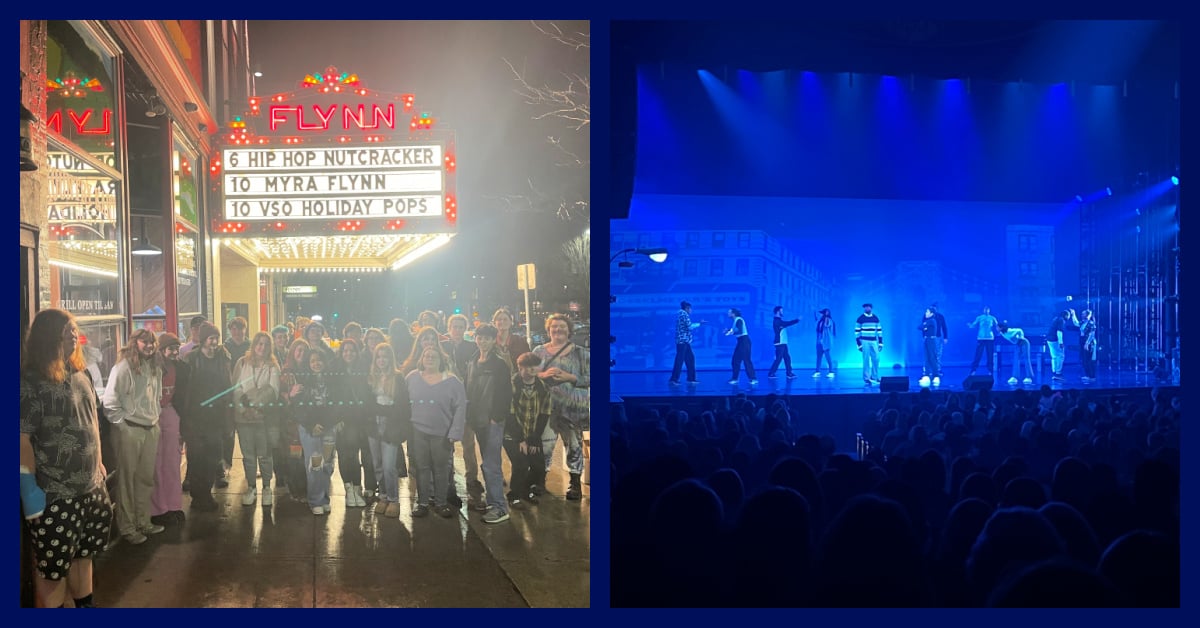 Rock Point School students and staff had the opportunity to attend the Hip Hop Nutcracker last Tuesday at the Flynn Theater. Margaret Bass, our newly hired Relationship Consultant, focusing on race, motivated us to check out the production. The tour is in its 10th year and we were thrilled the performance made its way to Burlington.
This version of The Nutcracker kept most of the classical music selections, with some twists including dynamic violin pieces. Just like the original, Maria-Clara and the Nutcracker Prince go on a dream adventure battling a gang of mice, visiting the land of sweets, and learning some important lessons. Digital graffiti and visuals change the landscape of E.T.A. Hoffmann's beloved story from traditional 19th Century Germany to the lively sights and sounds of contemporary New York City.
To warm us up, an MC guided us through some "old school" hip-hop music, which got people moving and vocal.
People, younger and older alike, appreciated the invitation to make noise, clap, sing, cheer, and move their bodies throughout the show. For many of our students, this was the first dance performance they have attended where it was encouraged to make noise during the show!
We all left the theater feeling energized and upbeat. During a debrief the next morning students said that they really liked the production, seeing the story as a powerful fusion between the old world and the new world. "My favorite part was when the dancers spun on their heads. I found it very interesting that the music was so similar to the ballet version, but the movement was so different!" said Olivia, class of 2023. We all loved the music and dancing, with some students saying that they felt inspired to do more dancing themselves.