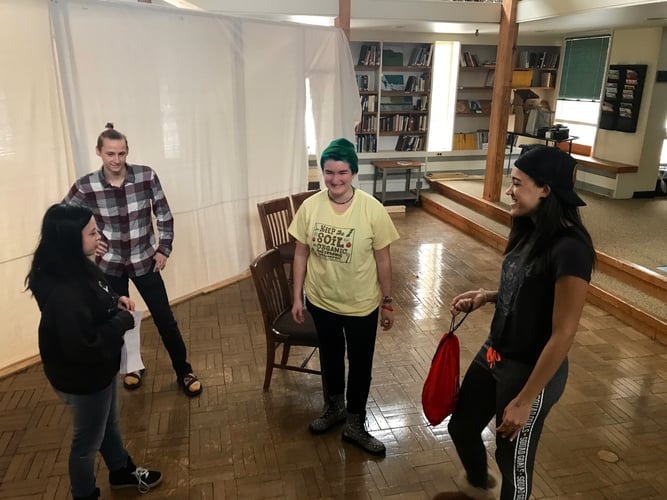 Our students are hard at work getting ready for our drama performance on February 22 at 6 p.m. Earlier this winter, students began writing plays in workshops with the Vermont Young Playwrights' Project. Some students continued editing and developing their plays so that they could be performed this month.
Each student at Rock Point is involved in the production in some way, either as a writer, director, performer, set builder, costume designer, or crew member. Some enthusiastic students are taking part in multiple aspects of the production! The one-act plays range from the fantastical to the funny to the serious, and we can't wait to see the finished products.
All plays are around 10 minutes and here are the selections:
"Cat Play" by Cory grade 12 -- A cat escapes from her owner, after becoming tired of living her boring life as a domestic suburban house cat.
"Gay Disease" by Lily grade 10 -- A high school boy deals with having a crush on another boy; he faces the hurdles of being bullied, but is ultimately supported by caring friends.
"Unknown" by Josh grade 11 -- A man wakes up in an abyss, unsure of whether he is alive or dead, hearing only a voice that forces him to examine his life's choices.
"Sure Thing" by David Ives (not an RPS student) -- A professionally written comedic play about the perils and joys of dating.
Please join us on February 22nd for a night of drama, creativity, and laughter!