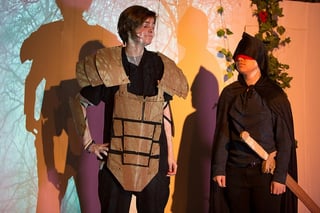 As part of our project based learning curriculum, students are writing, producing, and performing several short plays again this year. Every student will take part in making this performance happen - from writing the plays to making costumes to promotion of the event. We hope many of you can make it to the performance to see the exciting culmination of several months of work!
(Photo on left is from last year's performance)
When: Thursday, February 23, 2017 from 6:00 pm - 7:00 pm
Where: Rock Point School Library
What: Performance of several short student-written plays!
Check this space for more information and updates in the coming weeks!