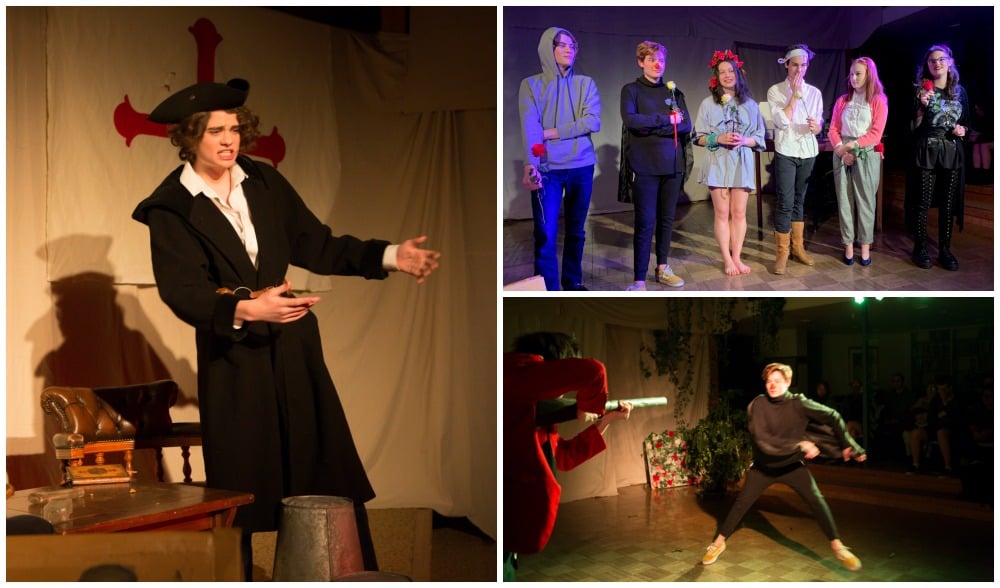 We are so incredibly proud of our students for all the hard work and creativity that went into the school plays this year. The performance on February 22nd showcased two student written plays, a Shakespearean monologue, and a one-act written by Christopher Durang. Students lead every part of the production from costumes to sets to lights and more. Our two student writers, Jeff and Amaris, also directed their plays, helping bring their visions to life on stage.
"The Toucan"
by Amaris (grade 11)
An overly confident British explorer comes face-to-face with a vicious (yet hilarious) toucan, who causes him to question his life's choices and ultimately go mad.

"1492"
by Jeff (grade 11)
A glimpse into how things might have gone in the first day Christopher Columbus and his men landed on what they thought was India.

"DMV Tyrant"
by Christopher Durang
A weary customer at the DMV finally has his number called; now, if only the woman at Window 7 would put down her book and hear about his troubles.
Congratulations to all of our students for an amazing performance and thank you to all the families and community members who came out for the show!
You can see "The Toucan" here:
Click here to see a photo album and more videos of the performances.