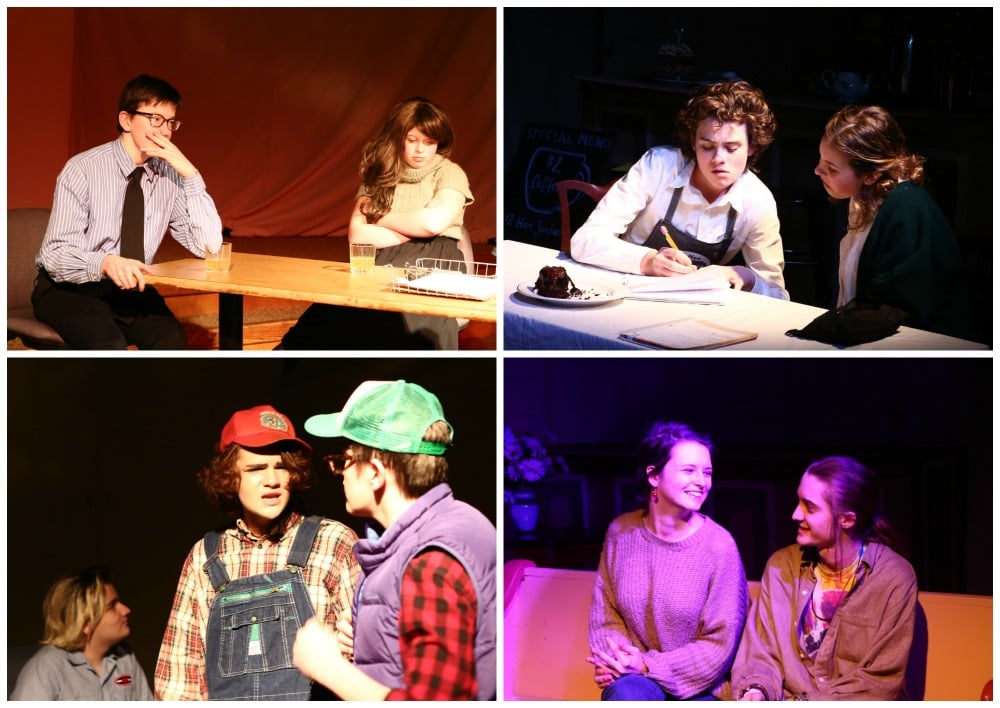 On February 20th and 21st Rock Point School students performed the plays they have been working on for the past few months. The process began with playwriting workshops run by a professional playwright with the Vermont Young Playwright's Project. Four students, Yukiko (10th grade), Val (10th grande), Jeff (10th grade), and Jesse (12th grade), continued to edit and develop their plays for production.
The plays ranged from funny to tragic to searing political commentary.
"823" by Val (grade 10) -

A father and daughter struggle to find a way to get closure as their wife and mother dies.
"Alice in Cafe Poirot" by Yukiko (grade 9) -

Alice wants to tell William that she loves him, but keeps getting interrupted by a series of mishaps in a busy cafe.
"Airport" by Jeff (grade 10) -

A bumbling duo attempt to board a plane for their mother's wedding, but are held up by the head of TSA, who has a personal bone to pick with them.
"Brett is the Best" by Jesse (grade 12) -

A satirical look at a corrupt

lawyer who has a backwards idea to get his client out of a jam, involving inventing, and then getting him out of, a juicy scandal.
We are incredibly proud of the playwrights (who also acted), actors, and crew who brought these plays to life.