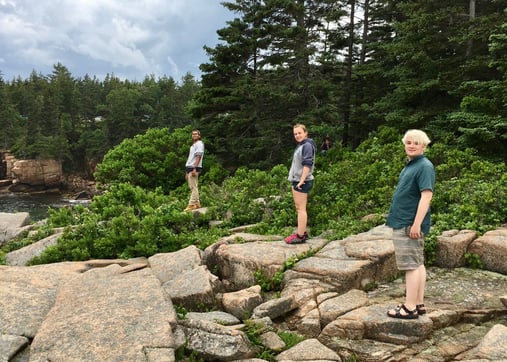 We have prepared an amazing on-campus summer session full of fun, healthy connections, and learning. This is set to run from July 6 to August 13. We have planned activities on our campus (academics and credit recovery, art, crafts, cooking and baking, gardening, bee keeping, hikes, swimming, boating and more) and throughout Vermont and New England (camping, fishing, an amusement park, festivals). While our strong preference is to have Summer Session our beautiful campus, we are not able to make that decision alone. We will be looking to the CDC and the Governor of Vermont, as well as to best practices, to determine whether our on-campus summer program will happen. We will need to hear that it is safe and prudent to bring students, coming from many states across our country, onto campus. We hope to have more clarity by the end of May or early June.
Fortunately, we are also ready to launch our virtual summer program. Our students do well with engagement, structure, a chance to earn some needed credits, and most of all, healthy connections with staff and peers.Rock Point School has been able to deliver a virtual program that accomplishes these goals since early March, when students left campus, and we are confident that we can continue to provide this kind of virtual programming through the summer. If you want to learn more about our school year distance learning program, click here.
The virtual summer program will run during the same time frame of the live session. On Monday through Wednesday, there will be daily morning meetings, as well as time for credit recovery and academic explorations. There will also be a study hall, where students can get support from teachers. On Tuesdays, there will also be an advising meeting to review academics, social engagement, and general well-being. On Thursdays, along with our morning meeting and a study hall, there will be then an Enrichment Class which may focus on music, art, culinary, creative writing, nature, and virtual trips around Vermont and beyond. We will also offer a weekly opportunity for parents to chat with each other and a Rock Point staff.