Our beloved Mo Reilly, former Director of Community Development, has moved to the countryside of Eastern Vermont to be with her partner full time! We already miss her great sense of humor and excellent organizational skills. Mo helped implement and update many systems, such as our student information software and donor database, which will help Rock Point School thrive in the future.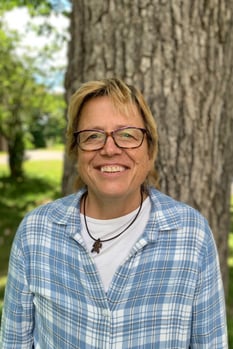 Mary Hamilton joined our staff as our new Office and Systems Manager in June. She has been learning about everything Rock Point School for the past month and is excited to support our students and families as the front office "Face of RPS." Mary is joining the Rock Point School community having spent many years volunteering and working at Vermont Commons School. She left VCS to start a business, but ultimately determined this just wasn't the right time. She is excited to have colleagues again and be a part of a community with high-school-aged students and their journeys as a shared passion.
When not in Mo/Lonnie's old office, Mary is hiking with her dogs, cooking up a storm, hanging with her twenty-something kids, and reading. We are excited to welcome Mary into the Rock Point community!