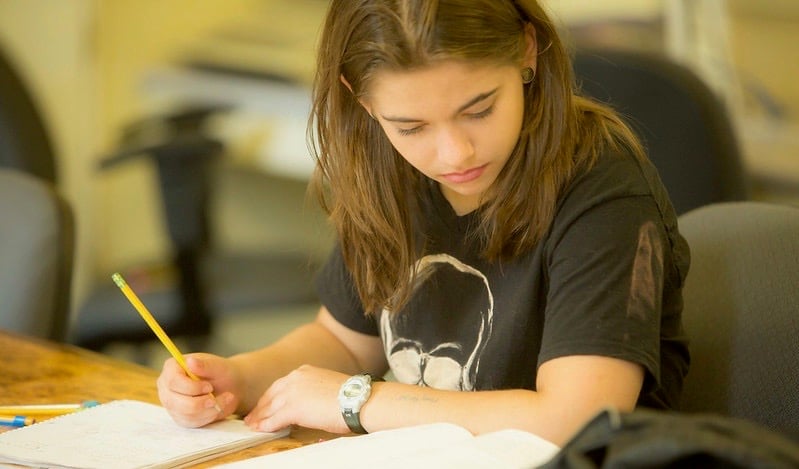 We are all new to Distance Learning and there has been a certain amount of trial and error to the process. We wanted to share these answers to Frequently Asked Questions about how we are teaching our students remotely in hopes that it will help people invision what is now becoming the norm across the country for this school year.
Our teachers are still holding all their classes remotely. Students login to Google Meets for each class. With a few technical glitches here and there, it is going well so far. Here are the questions we've had from families about the process:
1. Are teachers able to see students online?
Yes! Unless they turn off their camera. Some students are less comfortable with this and turn off her camera, and then we only see their icon. This is not ideal because we can't really tell if they're following along and paying attention. We often ask students to turn their cameras back on, and if they have a problem doing this, we connect with them on a case-by-case basis about it. We are flexible to student needs and acknowledge it is a weird new terrain! For most students, they have been comfortable having their camera on and it is not an issue.
2. Should students be writing in notebooks, or having other tangible school supplies?
When we are at school, we ask students to bring their binder and planner, and do a fair amount of work on paper. Now that we are remote, work is largely assigned and completed online using google docs that we share with students. However, for their History and Math work, there is some handwriting that happens. Students get their work assigned on google drive, and then should have a spiral notebook for each of these classes, and should be taking notes/doing work on paper, and then sending pictures of what they complete to teachers.
3. Should they be occasionally printing handouts?
Usually not. If this comes up, teachers will be sure to explicitly check that students are able to print work at home. For the most part, things are all shared via pdfs and google docs.
4. Is homework/classwork done online?
As stated above, it is all shared and assigned on their google drive, connected to student email. While there may be work done by hand, students will always need internet connection in order to share their work back to teachers.
5. Should students be able to complete all homework during study hall?
Students will most likely need to use study hall (11:45 - 12:45) and an additional hour in the evening at a time that works for them and their family. If they use the time well, work should be doable in this timeframe. If this is not happening, or if teachers are not seeing work from a student, they will follow up with the student to see what is getting in their way. From there, teachers will make a plan for use of time, workload, etc., and will let parents know if there is any way they can be helpful in managing these study hall times.
6. About how much time should daily homework take for each class?
Each class assigns between 20 - 30 minutes of homework. So, in total, students should use about two hours if they have homework in all four classes, especially taking into account the time it takes to get set up, log in, take breaks, etc.
7. Are there/will there be, long-term projects due, too?
There may be some longer assignments coming down the pike, but teachers are working to make things as completely accessible, doable, and supported for students, as possible. That said, when we get to a point where we are assigning essays or projects, teachers will arrange to meet with students to discuss their progress, work with them on it, and monitor productiveness. The idea, much like in our classrooms, will be to break the work into smaller and more doable parts, so that students are not left to manage a big project on their own. We will keep parents posted if there is something bigger that students are working on that could use their support.
8. Is class interactive or lecture style?
It varies based on the class, but for the most part they are interactive. In English and History, we read things together and discuss them, asking students questions, and giving them a chance to share their homework assignments with the group. Science is a blend of that style, and then some lecture as Mari delivers the information. And Math is a mix, too, with some straightforward teaching and then some questions to the group to check comprehension and hear from students.
9. How much do you, and the other teachers, want parents to be involved.
This a great question, and one we have discussed as a staff. On the one hand, we do not want to over-burden parents. We are sensitive to the challenges of getting students to the computer, to do their homework assignments, and generally to manage their time. We know this is already a stressful time for many families, and we want you to enjoy each other as much as possible, rather than make things tense by asking parents to be their study hall supervisors and at-home teachers. At the same time, for many students, they need some help managing their time.
For now, we ask parents to help to make sure students are up for classes and have a quiet workspace. Anything they can do to encourage a good night's sleep and to help students engage in other parts of the programming (dorm hangouts, life skills, etc.) will benefit them throughout this time. If there are issues with work production, or it seems like they need more support, teachers or advisors will reach out to parents and help to make a plan.