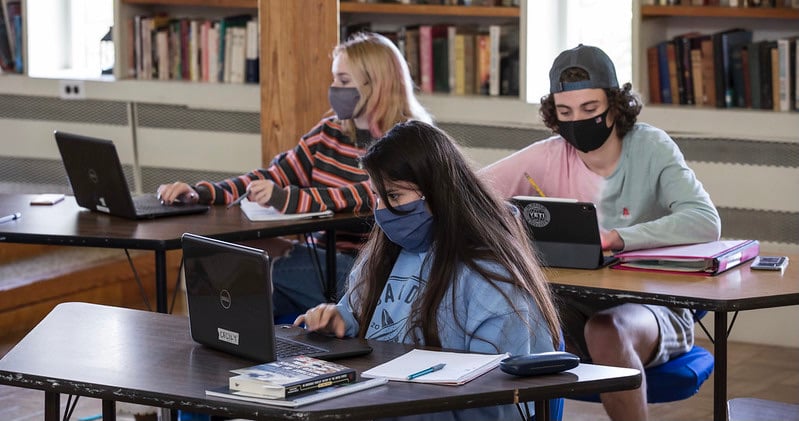 Last year, we worked hard to keep our community safe, and we were able to get everyone vaccinated in the spring! While we hoped that vaccinations would allow us to return to a more "normal" fall, given the high COVID rates around the country, "normal" is shifting. Here is what we are doing at RPS this fall to help keep everyone safe:
Our staff members and returning students have all been vaccinated. The vaccine is the best protection we have because it lowers the risk of getting the virus, and if anyone in our school does get COVID, they are likely to have mild symptoms and recover quickly.


All students and staff members will get tested for COVID-19 before school begins. While breakthrough infections are not common, we want to ensure that everyone is healthy before we come together in September. We will also continue our practice of regularly testing people as needed.


At this time, we will continue to wear masks indoors. Boarding students will still be able to remove their masks when they are with just each other and masks will not be required outdoors for those who are vaccinated.


Like last year, we will use our space creatively to ensure that there is enough airflow and ventilation in classrooms. We will use outdoor spaces when possible and encourage lots of outdoor activities.


We will closely monitor the health of our students and staff. Although we will not be doing daily temperature checks, we will make sure that all community members know they should stay home or stay in their rooms if they are experiencing any symptoms. We will be sure that people who are feeling sick have the care they need and are tested for COVID before they return to school. Should anyone test positive, we have a protocol in place that we have discussed with each student's family.


We will continue to ask our staff, students, and families to make good decisions about COVID precautions when they are not at school. While it is hard to give up some things we enjoy, we know from experience that the opportunity to be together as a community at school is so important. We want the best in-person learning experience for our students, and keeping everyone safe is the key to making that happen!
There is more information about our COVID precautions available here. We truly appreciate the thoughtful and cautious approach our staff, students, and families have had while dealing with the pandemic.