The 2022 Graduation at Rock Point School had laughter, tears, and a huge rainstorm! Luckily, the rain started once everyone was inside the tent and cleared up right after the ceremony. In the Quaker Meeting-style ceremony, many graduates and families shared stories and thank you's to each other, friends, and Rock Point faculty.
As one graduate described their experience at Rock Point, "For me, Rock Point was not the crossroads, it was the road." Many graduates echo this idea in their time at Rock Point. Before they arrive, they choose and commit to taking a different road than the one they were on previously and while they are at our school they work hard to follow the road, keeping their ultimate destination in mind. We are incredibly proud and grateful for the choices they made, and the endurance they displayed that got them to graduation!
Without further ado, let us introduce the class of 2022!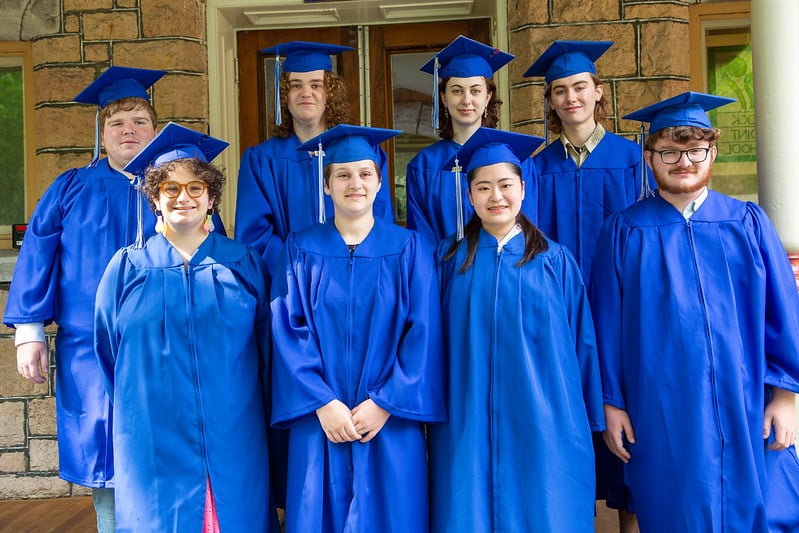 (Left to right, starting with the back row in the photo above)
Before his junior year, Carson (from MI) joined us for a remote summer session. While that was an unusual experience, Carson was ready for in-person life at Rock Point when he arrived. In his time at school, Carson developed strong academic skills and leadership in the kitchen work crew and on the tech side of the school play. Next year, Carson will be attending Hofstra University with a Presidential Scholarship.
Rory (from VT) grew both personally and in inches in his four years at Rock Point School! In his time here, Rory gained academic skills and good work habits. He took on a leadership role in the kitchen and was always up for any odd jobs around the building. As an admissions ambassador, he helped with tours and welcomed prospective students and families to our school. Next year, Rory will attend the University of New Hampshire!
In her two years at Rock Point, Eula (from VT) created so many beautiful pieces of art! From paintings to crochet stuffed animals to acting in the school play, her creative spirit was often on display. Eula also volunteered with our admissions team and shared her warm and welcoming attitude with many prospective students and families. In her senior year, Eula balanced classes at the Davis Center, a job at a retirement community, and her school responsibilities. In the fall, Eula plans to attend Nova Scotia College of Art and Design.
Nate (from NY) arrived at Rock Point in the fall of 2020. In his time at Rock Point, he demonstrated a strong sense of style, both in his fashion sense and in his well-designed room decor. Nate enjoyed spending time outside on quiet walks, doing yoga, and participating in the monthly lake swims. Nate showed his leadership skills at many Open House events as an admissions volunteer. Nate plans to live and work in upstate New York near his family next year.
Since her arrival two years ago, Roxanne (from MA) has been involved in so many parts of the school, including GSA, community meetings, prom committee, Burton CHILL, the school play, creative writing, admissions, and more. This year, her play "The Dragon" was selected for a cold reading by professional actors at the Vermont Young Playwrights Festival. In addition to all of these activities, this year Roxanne also pursued her interest in museum studies with an internship at the Rokeby Museum. We look forward to hearing about all of the wonderful activities Roxanne does at Clark University next year!
Asher (from N.C.) was the last student to join the class of 2022 in their junior year, but it seems like they were at Rock Point for much longer! They were a leader in many aspects of the program, including Community Meetings, Dungeons and Dragons Club, the GSA, and the school plays. Asher is moving to the UK in the next few months and has secured a job there already!
Yukiko (from Japan) joined us five years ago! It takes a lot of courage to fly halfway around the world to attend high school, and we are so glad Yukiko made that decision. She participated in every Rock Point activity possible: Scuba diving, Burton Chill, the school plays, kitchen work crew, and more. This year, Yukiko demonstrated her leadership skills by heading up the Senior Initiative to raise funds for new washers and dryers. In the fall, Yukiko plans to study Veterinary Science at SUNY Delhi.
David (from TX) came to Rock Point School in the middle of his junior year. He immediately dove into life at RPS, jumping in the frozen lake in his first week at school. At Rock Point, David pursued advanced math studies and took a college astronomy course. He also participated in an internship at Crow's Path, a nature-based school program for younger students. Next year, David is traveling to Ireland and Spain to start his college coursework. In the fall of 2023, David will attend Kenyon College.
As a group, this class stuck together and made it through some major challenges, including remote learning, quarantines, event cancellations, and more. It was extremely poignant to gather with families and friends to celebrate their achievements in person! We can't wait to see what the class of 2022 does next!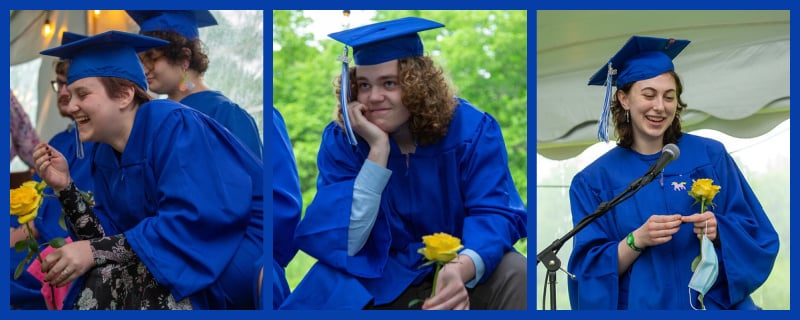 Graduation Photo Album on Flickr