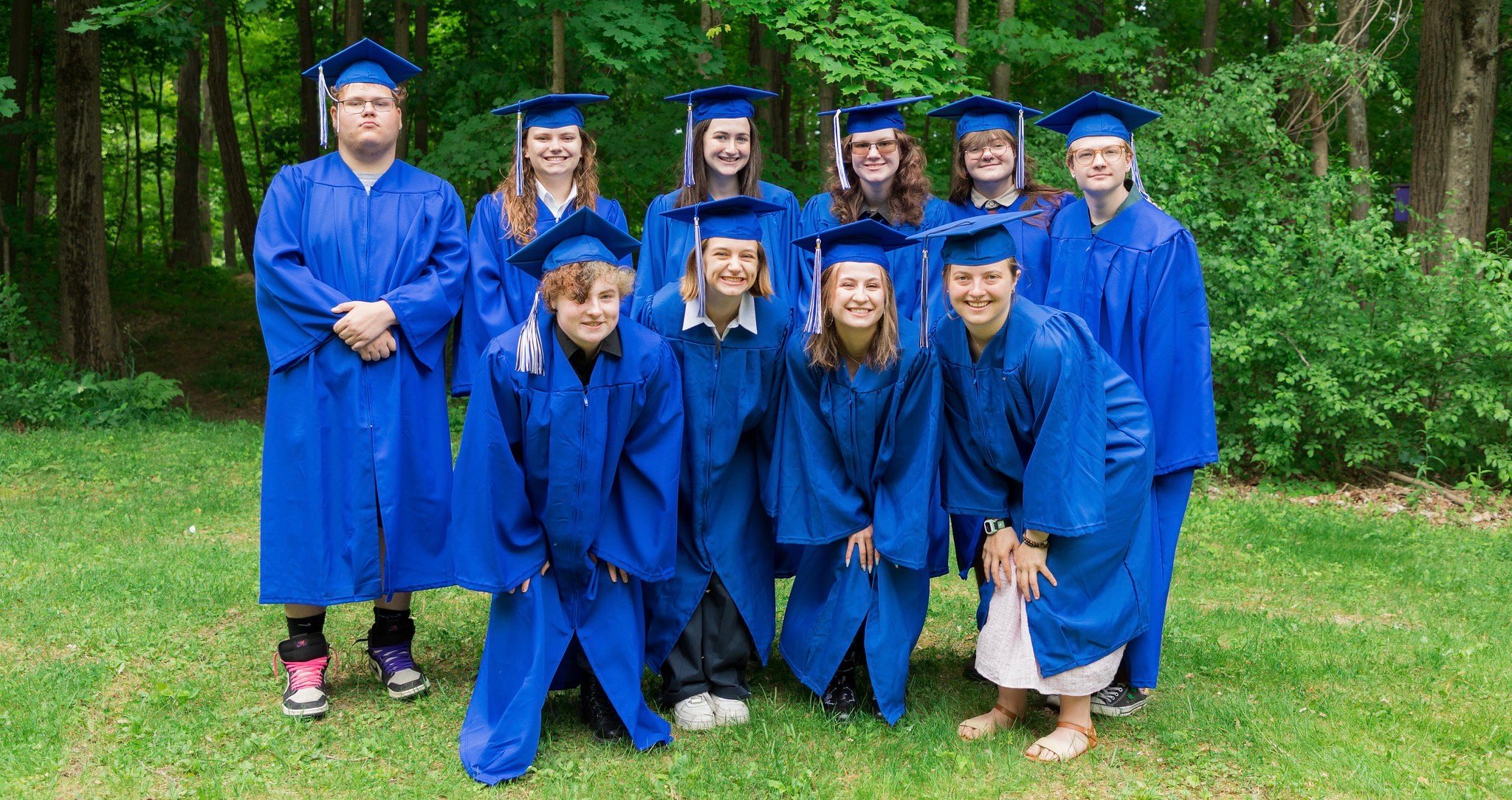 Back row (L to R): Jerry, Cam, Olivia, Will, Satyr, Charlie; Front Row (L to R): Orion, Francis, Eden, Lily
On June 3rd, we had the immense privilege of graduating this extraordinary group of students! At our ceremony, we heard testimony from family, friends, and staff members confirming the hard work, growth, and bravery we have seen from these young people throughout their lives and particularly in their time at our school. Many members of the class spoke and expressed gratitude to their teachers, family, and friends. They shared honestly about the challenges they experienced, as well as their triumphs.
To give you a small taste of what we heard in the graduation tent, here are a few words from Satyr '23:
"In my two years at Rock Point, I found a place where everything felt like I belonged, and being a typically silent person in group settings, that says a lot. That's what it was for me, the amount of love in this community. Some are more vocal about it than others, but you can feel it. I hadn't been to a place before where you could really feel how much people want you to succeed. Where people listen to what you have to say, even if it isn't rational. I'm so grateful for the Rock Point staff and the students who came before me and shaped this school into what it is. And if I'm being honest, I am most grateful for my class, the seniors. I have never in my life felt more safe among my peers in a class. The amount of love I have in my heart for them all is astronomical."
Next year, Satyr will be studying game design at Champlain College with a fellow member of the class, Orion. We are very happy that several members of the class of 2023 are planning to attend local colleges. Eden will be at Saint Michaels College, Olivia and Lily will be at UVM, and Jerry is attending CCV. Of course, we also hope to get visits from our graduates traveling a little further to college. Cam will be at Keene State, Charlie at Bennington College, Will at Rensselaer Polytechnic Institute, and Francis at Hampshire College.
If you'd like to see the photo album from graduation, visit our Flickr page.