This fall, staff members participated in the Point Made Learning program called "Look Deeper: Race" as part of our professional development. Over the course of the six-week training, teachers and residential educators met weekly to discuss our responses to the film and to try to build a common understanding of racism, anti-racism work, and how we can incorporate the learning and ideas into our work with students. We were excited to bring students into this program this winter.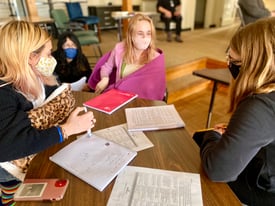 On February 11th, students and staff gathered to view the film "I'm Not a Racist...Am I?" by Point Made Learning. The film follows a group of high school students who are engaged in learning about the role of racism in their lives, and in the country in general. Throughout their time together, the young people in the film broaden their understanding of systemic racism, shift their perspective to gain a more full understanding of the impact of racism, and take responsibility for their roles in these ongoing challenges.
After a morning of viewing the film, students took part in a facilitated discussion with filmmaker Catherine Wiggington Greene, who joined us via Zoom. Under her lead, students reflected on who in the film they identified with, and particularly impactful scenes. Catherine challenged students to grapple with definitions of racism presented in the film, and to think deeply about their emotional reactions to what they had seen. As usual, Rock Point students were engaged critical thinkers, who offered their voices to discussion and were willing to tackle this challenging subject matter.
Catherine ended our discussion by asking students to come up with a "Start/Stop/Change," or one thing they would like to start doing, stop doing, and see change, concerning racism in their lives and in our culture at large. This call to action is one we are ready to take on as a community. Staff members will continue to support students in these conversations, and to help them find ways to engage in anti-racist efforts.
Top photo of the Point Made Learning Team from the website. Left photo of students in the workshop.