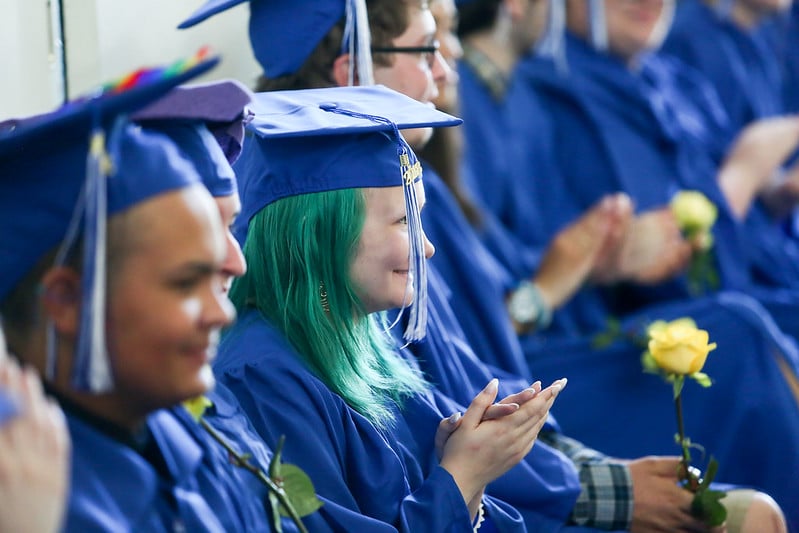 In 20 years of helping students explore college options and work on applications, I've seen, heard and learned a lot about what colleges want. What gets ignored too often is the question of what you––the student who is going to go to college––want.
How to figure out where you can thrive and grow
How do you go about figuring out what you want, and how can you find colleges that can offer that, regardless of whether or not they are recognizably famous institutions? Year after year I encounter students who feel the pressure to go to college "some place good." When I ask them what "good" means, I often hear, "someplace well known."
Sometimes the follow up will be, "Well, a school that people have heard of." When we get into what this means, it means, "A school that is part of the 15-30 colleges that my parents and community have heard of and think well of."
Going beyond the elite schools
A wonderful place to start is colleges you have heard of. But it's a terrible place to stop, because most of us have heard of a minuscule number of colleges compared to what is out there. In education consultant David Altshuler's book there are wonderful examples of how most of us have never heard of the colleges that highly accomplished people, including Nobel prize winners, philanthropists, and business magnates have attended. Check out "It Isn't About A Fancy Diploma" for examples of CEOs, politicians, and well-known people who went to––or started their studies at––a community college.
So, how do you go about finding a college where you can learn, grow, thrive, and create a solid foundation for the career or several careers you may have?
Who you are should guide your search
At Rock Point School, we start with a basic overview of who you are: What are your interests and skills? What are your needs or vulnerabilities? What are your general geographic preferences and location (urban, suburban, rural) preferences?
Questions to consider
Beyond these basic considerations, here are some questions we ask students to consider:
Will you learn better in discussion-based classes or lectures?
Do you want a large, medium or small student body?
How important to you is learning and living in a diverse community? Looking beyond the required numbers reported by colleges on the age, gender, race, ethnicity, religion, social class, sexuality, disability status, and nationality of the student body — are you seeking a diverse mix of life experiences, identities, ideas, and opinions — or will you be more comfortable on a campus where the students predominantly have backgrounds similar to your own?
If you know your area of study, does your college allow you to enter in that major, or do you have to apply to be in that major after a year or two of being at the college?
How important to you is an internship experience in your field of study? All colleges will tell you that you can get an internship, but some colleges require internships and have formalized internship programs within each major.
What academic services are offered? The transition to college is a big one for nearly every student. Does the college have an academic center where first-year students can study, get organizational help, or get tutoring in specific subjects? Are these services available to all students?
If you have used accommodations or academic supports in high school, how do the disability services offices compare at the various colleges you are considering. Every college offers appropriate accommodations for students with disabilities, but the size of the office and the ease of navigating the accommodations process can vary widely from school to school.
What are the counseling services at the college? How easy are they to access? Are there limitations on number of visits while enrolled?
What are your financial considerations? While net cost varies a good deal from the listed "sticker price" at all colleges, if finances are a consideration, it will make sense to apply somewhat broadly, and to give yourself at least one state-school option.
Do you know what you want to major in, or is college the place where you will figure that out? This matters. Nearly every school allows a student to enter "undeclared" or "undecided," and all of these colleges tell you that you will have an advisor to help you navigate this. But some colleges have real guidance for first-year students to help them explore––usually in the form of a program, while many have advisors who are not really trained to know about all of the programs at the school. If you don't know what you want to major in, consider searching for colleges that have true exploration programs for first year students.
We also propose that students visit several different kinds and sizes of colleges just to get a feel of these differences. These can be colleges close to home, even if you don't plan to go to them, because you are just using them to get a sense of "how colleges work."
Who you want to be matters most
From Time magazine's "It Doesn't Matter Where You Go to College" to "What students do at college matters much more than where they go" in the Wall Street Journal, there is consensus that where you go to college matters less (to employers, to your earning potential, and to overall life satisfaction) than how you engage with opportunities and what skills you develop while you're in college.
Over the decades, I have helped many Rock Point School students to thoughtfully consider the person they wanted to become and intentionally selected colleges that fit best. Sometimes these were elite schools, sometimes not, but each time the student advanced one step closer to their best future self.
RESOURCES
Get your kid into the right college. Get the right college into your kid, David Altshuler
College Personality Quiz, US News & World Report
Successful people who got their start at community colleges, Frank
College search tips article, Forbes