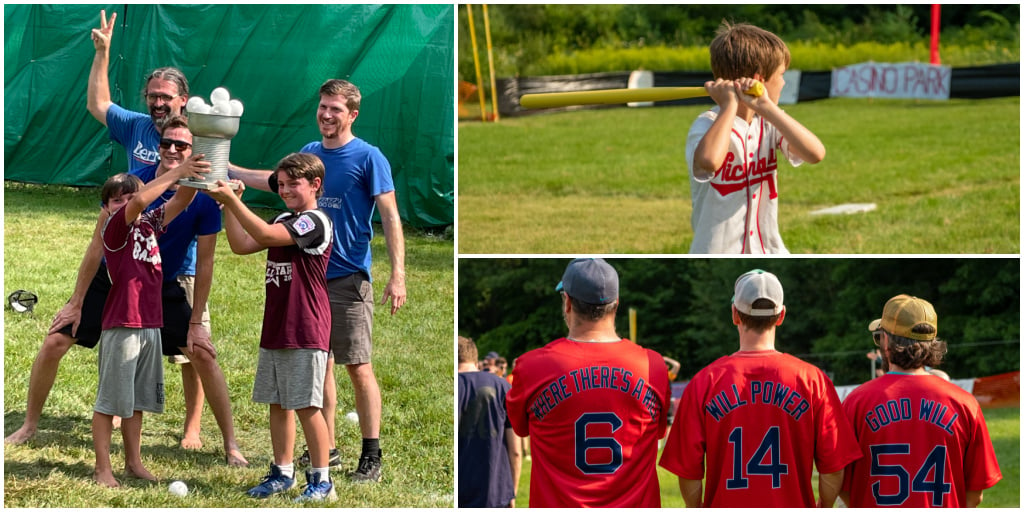 Wiffle Fest began twenty-three years ago with C.J. Spirito's dream to get people together in the summer with one of his favorite activities. Over the years it has grown into a true Wiffle Festival, bringing out the sweet spirit of community so unique to Rock Point events while raising money to support the mission of the school. As former Headmaster John Rouleau noted about the event, Wiffle Fest has a little bit of the magic of the Legend of Brigadoon!
While last year we were unable to host this epic Wiffle ball tournament due to COVID, this year we vowed to come back better than ever! The fields were decorated with banners honoring long-time participants, the pot-luck was abundant (this year with COVID-safe servers), and the games were filled with lots of laughter.
The tournament opened with a special appearance from one of the RPS rising seniors, Eula, who volunteered at the event painting signs, selling t-shirts, and helping with registration. Eula spoke about what the Rock Point community has meant to her and she threw out the ceremonial first pitch! C.J. also set aside a moment to honor Will Marquess, a writer, professor, and friend of the school who played in Wiffle Fest for 21 years before he died of cancer last year.
With 32 teams in the mix, the tournament play was fast and fun. Our sponsors, Acme Glass, entered a team that took home the Wiffle Trophy for the major leagues this year, while the Ainsworth brothers took home the minor league trophy. The games finished and the fields were picked up just in time to beat a rainstorm!
We want to thank all the players who gave it their all, the spectators for cheering everyone on, and the volunteers who made Wiffle Fest possible! We especially want to thank our sponsors who helped us raise over $8,000 for the Rock Point School Tomorrow Fund:
Hoang Auto Repair
Murray Electric
You can see all the photos from the event in our Flickr Album!