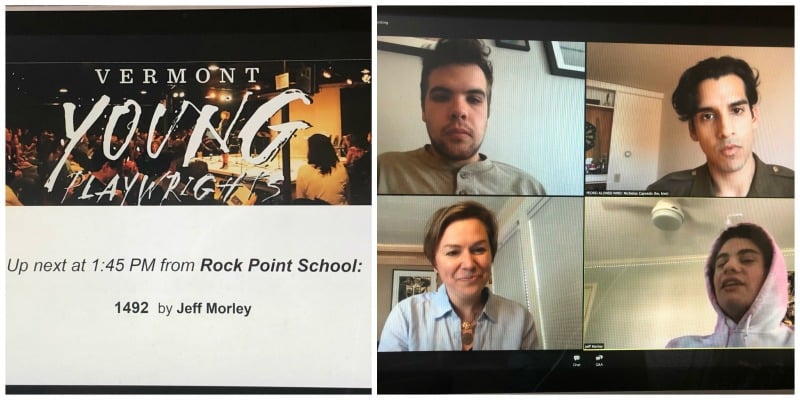 Each year Rock Point School participates in the Vermont Young Playwrights' Project, in conjunction with the Vermont Young Writers and Vermont Stage Company. As part of this project, a professional playwright visits the school in the fall for a series of workshops on playwriting. Students produce original 10-minute plays during these workshops and working with our English Teacher, Abbey Baker.
In the winter, Rock Point School students produce a few of the selected plays from these workshops. They work with Abbey to make their plays come to life on stage, casting, directing, and often acting in their own play!
In the spring, some of the plays are sent into the statewide festival. Festival judges select plays from each school around Vermont to be performed by professional actors at the Vermont Young Playwrights' Festival in May. Due to Covid-19, this year's Festival had to be remote, but we were thrilled to see our student Jeff Morley (grade 11) have his play, 1492, performed on Zoom by actors from the Vermont Stage Company. Jeff received feedback from the readers and actors including that the play was "Taking a serious subject and making it funny in a 'monty python' sort of way." Congratulations to Jeff and all the festival participants!