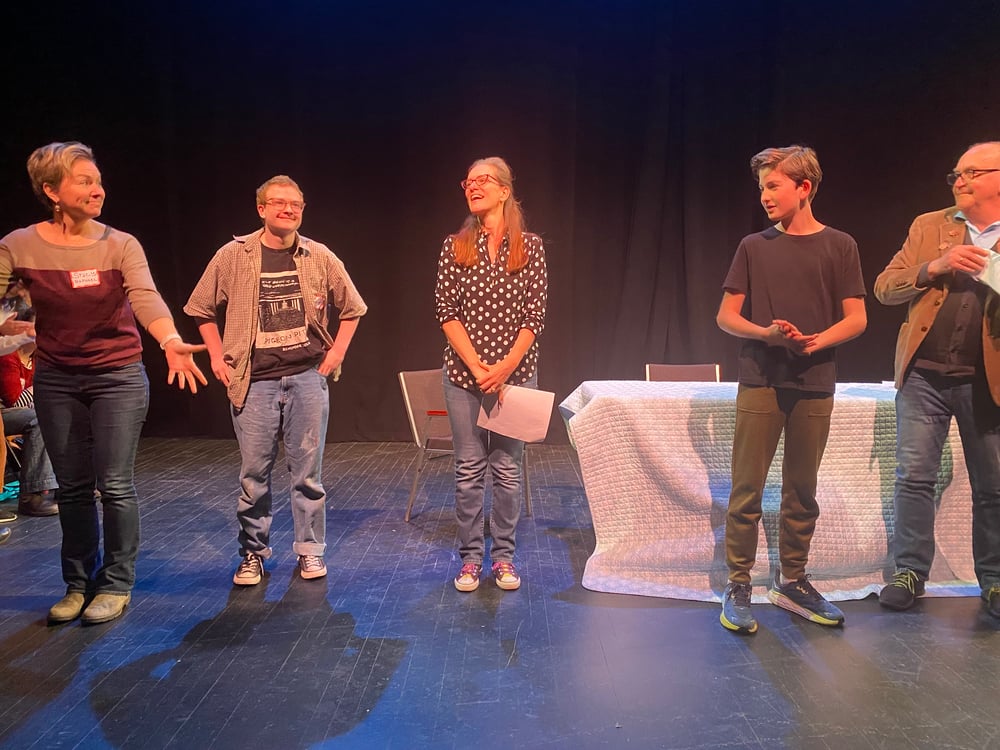 Senior Charlie D. with the cast of professional actors who performed his play at the Vermont Young Playwrights Festival on May 17, 2023
Rock Point School has been participating in the Vermont Young Playwrights program for decades. Now in its 29th year, VYP has a strong tradition of providing young Vermonters the opportunity to develop their voices through playwriting. We love this program with Vermont Stage, Mainstreet Landing Performing Arts Center, and their network of professional theater artists.
In the fall, our students engaged in writing workshops with Jordan Gullikson, a professional actor, playwright, and director. Jordan has worked with Rock Point Students several times, and we are grateful for his perspective and experience. Jordan helped students write original 10-minute plays, some of which were performed at our in-house Cabaret night, and some were submitted to the Vermont Young Playwrights' Festival.
On May 17th, Rock Point Students attended the Festival at Main Street Landing Performing Arts Center, where they had the opportunity to join workshops like "Stage Combat" and "Improvisation: Creating Something Out of Nothing." They were also able to watch plays written by other students throughout the state and performed by professional actors.
We are so proud of our two students who had their plays selected for the Festival! "The Witch Lord," by Will K. was given a cold reading by actors, while Charlie D.'s play "The Man Who Was a Mole" was given a staged reading. Both writers received feedback from the actors and the audience about their work.