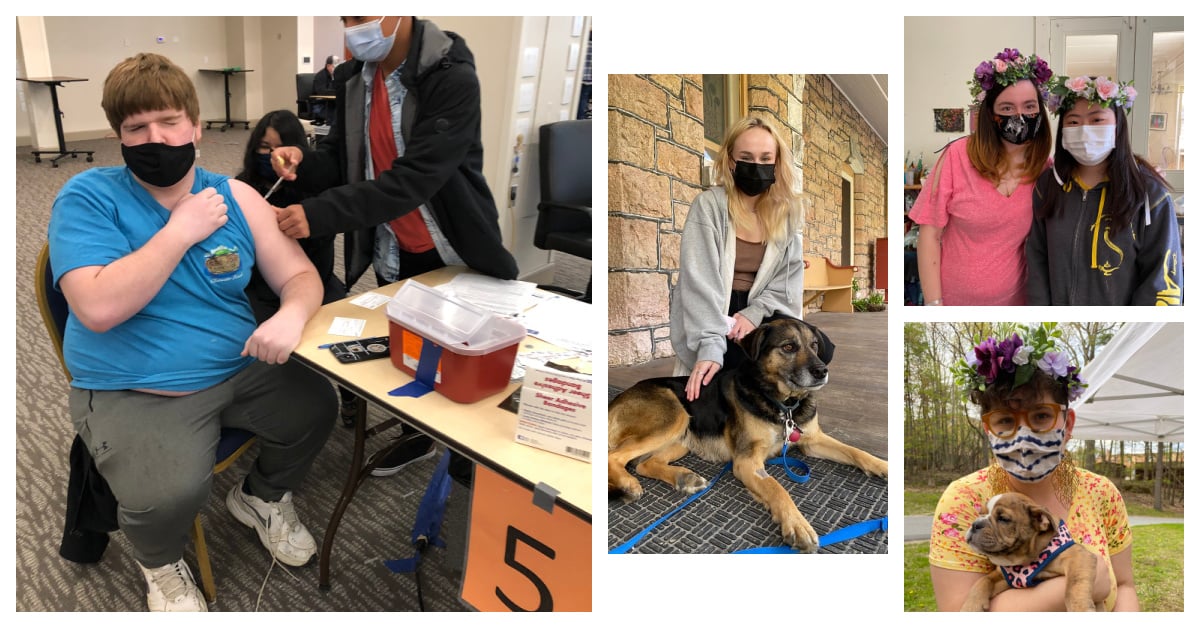 We can't believe the school year is almost over! It has been difficult to adjust to new routines and precautions, but our community has risen to the challenge this year. We have kept the school community healthy, followed appropriate COVID protocols, and managed to have plenty of creative fun. As we wind down the year, we are pleased to note that the state of Vermont and the CDC have announced some changes to the COVID guidelines. As a result, we have some exciting updates:
The dogs are back! Staff dogs are allowed back in the building, and we could not be happier about it. Well, all of us except the dorm cats, who are a little dubious about the sudden invasion of canines. They'll get over it.


All of our staff is fully vaccinated and students have been able to get at least their first dose of vaccine, giving us an added layer of protection as we consider spring activities. We can take more students in the school vehicles (with masks and windows down), making additional trips off campus possible.


As Day Students are vaccinated, they will be able to integrate with the boarding students - less social distancing, more hanging out!


Admissions visitors are now welcome on campus! We know it has been tough for prospective students and families to explore schools this year, and we are happy to announce that we are now able to host visitors. Vaccinated admissions guests are allowed in the school building for tours and interviews. Unvaccinated visitors can tour the campus grounds and meet with staff outside. At this point, we are continuing to wear masks, and we ask that any guests wear masks.


Travelers to the state of Vermont are no longer required to quarantine. We recommend

all visitors check the latest guidance from the Vermont State Health Department before traveling.



We are excited to host families on campus for graduation! The graduation ceremony will be outside, under a tent, and we ask that all attendees wear a mask and practice social distancing with those outside their families or households.
Thanks to everyone, students, families, staff, and supporters, for all your hard work keeping our community safe this year. We are feeling very grateful to finish the school year in such a positive way.