When Kevin Douglas, our long-time School Chef, resident Star Wars expert, house band, and sometime Martial Arts teacher announced he was leaving RPS this spring, we set out to find a chef who could bring their own set of skills and passions to the position. We knew we could never find someone just like Kevin, but we thought we might find someone who could make a creative and delicious school menu, mentor our students in the kitchen, and share their interests with the community.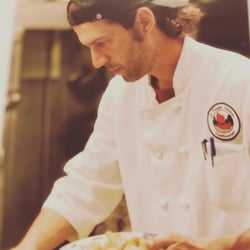 We are thrilled to announce that Charles Clark is joining our staff as Director of Food Services (a.k.a. School Chef). Charles is a classically trained chef, a graduate of the New England Culinary Institute, and a veteran of hotel, restaurant, food truck, and college dining operations. Most recently, he was the Head Chef at the renowned Single Pebble Restaurant in Burlington, followed by managing dining operations at the University of Vermont.
Charles values a seasonal approach to cooking and using fresh, local, and minimally packaged ingredients. If at all possible, he likes to pick his ingredients up directly from the field! In the kitchen, he employs practical techniques to achieve approachable dishes. He continues to experiment and grow his repertoire with a firm reliance on the disciplines he learned in his training.
As a Vermonter since 1996, he appreciates all the seasons! Charles lives in Burlington with his wife and two teenage children. He's a big UVM sports fan and Burlington Youth Lacrosse coach. In his free time, he loves running, cycling, home improvement projects, music, and reading.
We can't wait for school to start so everyone can enjoy what Charles creates in the kitchen!