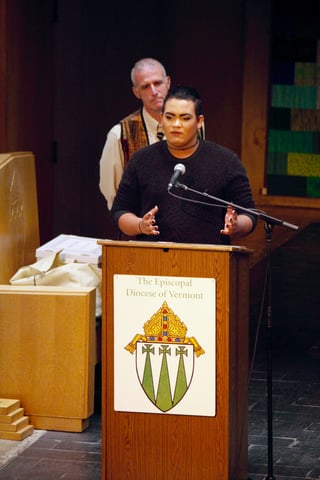 We were so excited to take part in the 2016 Convention for the Episcopal Diocese of Vermont. This year's theme, Love Heals, had leaders of the Church exploring how they can take an even more active role in championing women, children, and vulnerable populations.
The Diocese generously gave us time to speak to the Convention about the work we do at Rock Point School. Ross, a junior at Rock Point, shared his personal story and spoke about what Rock Point has done for him. Last spring, Ross was struggling at home and he and his parents found Rock Point School. Ross says he likes the "social dynamic" at Rock Point, where "you can be free to express yourself and not get harsh criticism from peers or staff." He also really appreciates the teachers, who are willing to spend extra time with him, and the dorm staff who "are always positive and ready to do any activity." Ross is a fabulous representative of the school and we are so proud of him for being brave enough to share his story in front of hundreds of people!
Becca Stevens, the founding director of Magdalene and Thistle Farms located in Tennessee, gave the keynote speech at the Convention. Magdalene is a residential community for women who have survived lives of prostitution, violence, and abuse. These women live together and support each other through the work of Thistle Farms, a nonprofit bath and body-care business run by the women. Stevens has been named a "Champion for Change" by the White House and featured on CNN.
Groups from Vermont, such as The Lund Home, The Vermont Network Against Domestic Violence, The Committee on Vermont Human Trafficking, and Give Way to Freedom also spoke to Church leaders about their work.
Again, thank you to the Episcopal Diocese of Vermont for hosting such an exceptional group of people and giving them a platform to speak. We were inspired!