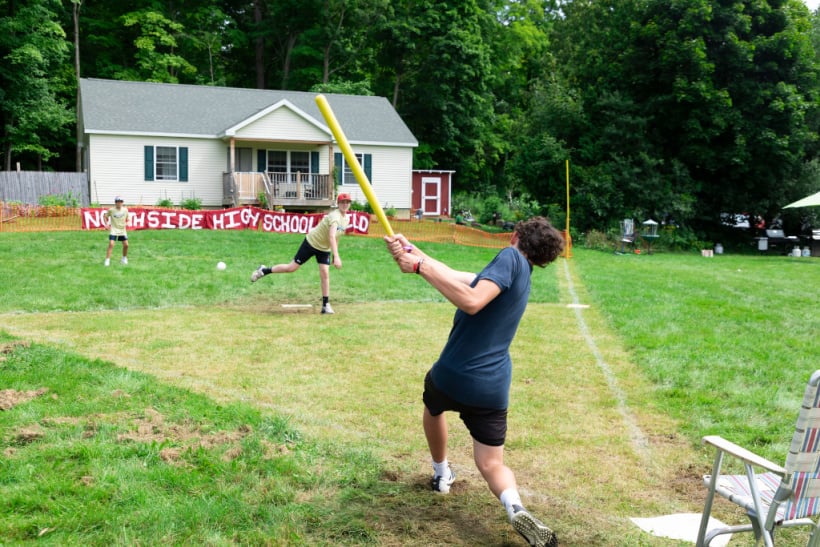 On August 12th, we hosted our 25th Anniversary Wiffle Fest tournament! We had a beautiful day for the games, and forty-six teams came out to play. Several teams have played in every Wiffle Fest from the beginning, and we were also excited to welcome eight brand-new teams to the Wiffle tradition.
Our day began with Bishop Shannon MacVean-Brown throwing the first pitch. Bishop Shannon spoke about her connection to Rock Point School as the Ex-Afficio of the Board of Trustees and finding inspiration in the energy from the students, particularly around the school's efforts toward racial healing. We are so grateful for her leadership at the school and her guest appearance at Wiffle Fest this year!
Because Wiffle Fest has grown over the years, we expanded to have two "Wiffle Villages," one in the traditional upper fields, the East Village, and one in the lower fields behind the school, the West Village. This meant that folks could socialize in smaller groups and keep the games flowing. We had detailed maps to help people find their games, and each area of the fields was named for previous champions - the Young Guns, Lizards, Mindless Ones, and the Bean Eaters.
Of course, Wiffle Fest could only happen because of our amazing volunteers! We had so many people who chipped in to help with everything from mowing fields to making lunch, and we wanted to highlight a few people who went above and beyond. Josh Safran, Kathy Butts, Mark Clement, and Kevin Morrison lead the way with the mowing, raking, painting lines for fields, and organizing the potluck lunch. We are also very grateful to R.J. Sweeney (parent of a current RPS student), who spent the day working the grill and made over 150 burgers, dogs, and more! Wiffle Fest is a true community event, and we are incredibly grateful to everyone who volunteered to help make it happen.
We also want to thank our generous sponsors. Acme Glass was a tournament sponsor for the third year in a row! We are sincerely grateful for their continued support and have loved working with them as we slowly work to upgrade all the windows in the school. Liam O'Farrell was also a tournament sponsor this year in loving memory of his brother, Brian O'Farrell. Team Sponsors this year included C&M Cleaning and Landscaping, The Schoolhouse, Cx Associates, New England Floor Coverings, Alderson, Inc, and Summit Fire and Security. Thanks so much to everyone who donated to Rock Point School! Your contributions help sustain the life-changing work of our school community.
Finally, congratulations to our winning teams! The championship games were a joy to watch as these teams played hard and played well. Our Major League Champs are Henry, Isaac, and Michael Wood-Lewis: Age and Beauty (sponsored by The School House), first-time winners with a walk-off 3-run homer. Hunter Stratton, Levi Lodish, Jake Stratton, and Jamin Unrein are our minor league victors, who were a last-minute team of great-spirited local ringers from the New North End.
Thanks again to everyone who came out to play, cheer, and socialize. We are already looking forward to next year's Wiffle Fest!
If you want to see all the photos from the event, check out our Flickr album.