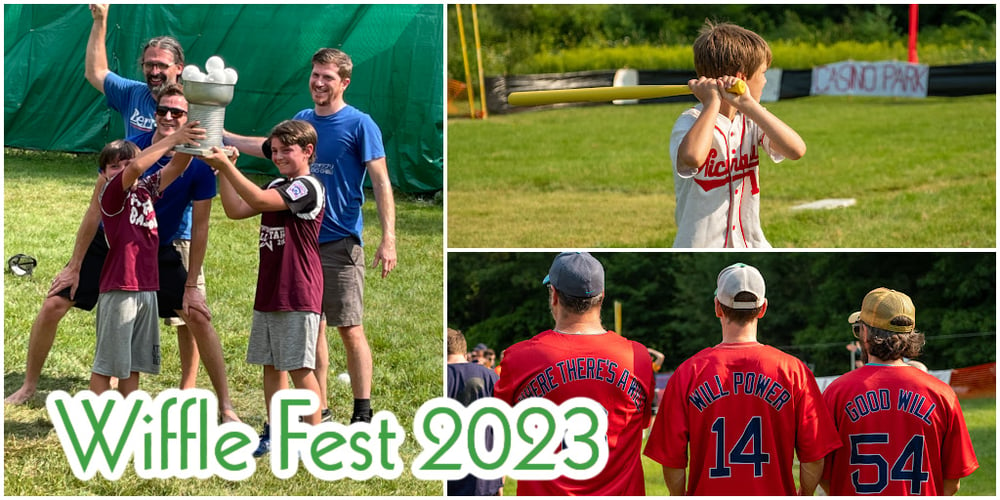 We are thrilled to announce the date for the 25th Wiffle Fest! What is Wiffle Fest, you ask? Wiffle Fest is an all-ages, 2-on-2 wiffle ball tournament that builds community and raises funds for Rock Point School. And it is a lot more ~ it is an uplifting celebration of the human spirit.
Raising funds to help RPS continue to be a safe space for young people from all walks of life is more essential now than ever, and playing wiffle ball is a pretty fabulous way to do it!
When: August 12th, 2023 - 9:00 am - 5:00 pm
Where: Rock Point School grounds - 1 Rock Point Rd, Burlington, VT 05408
Games will begin at 9 a.m. with our traditional opening pitch! Then our competition begins. With wiffle fields named after MLB stadiums, teams like the Bean-Eaters, and plenty of silliness to go around, the "competition" is healthy and marked by good sportsmanship.
Lunch is a potluck meal, where we share our favorite picnic-style dishes and open up the grill for game day hot dogs and more. The middle of the day is a sweet time to hop into the shade, eat, and share stories about the morning games and life in general.
In the afternoon, we will have our World Series Playoff games and celebrate our champions at the end of the day, around 4:30, with a homemade trophy and prizes.
You can also purchase limited edition 25th annual Wiffle Fest swag at the event and enter a raffle for RPS prizes, including wiffle fest gear, Rock Point honey, and more!
We hope you'll join us on this "field of dreams" and play wiffle ball for a great cause! Click the button below for more information and to register.