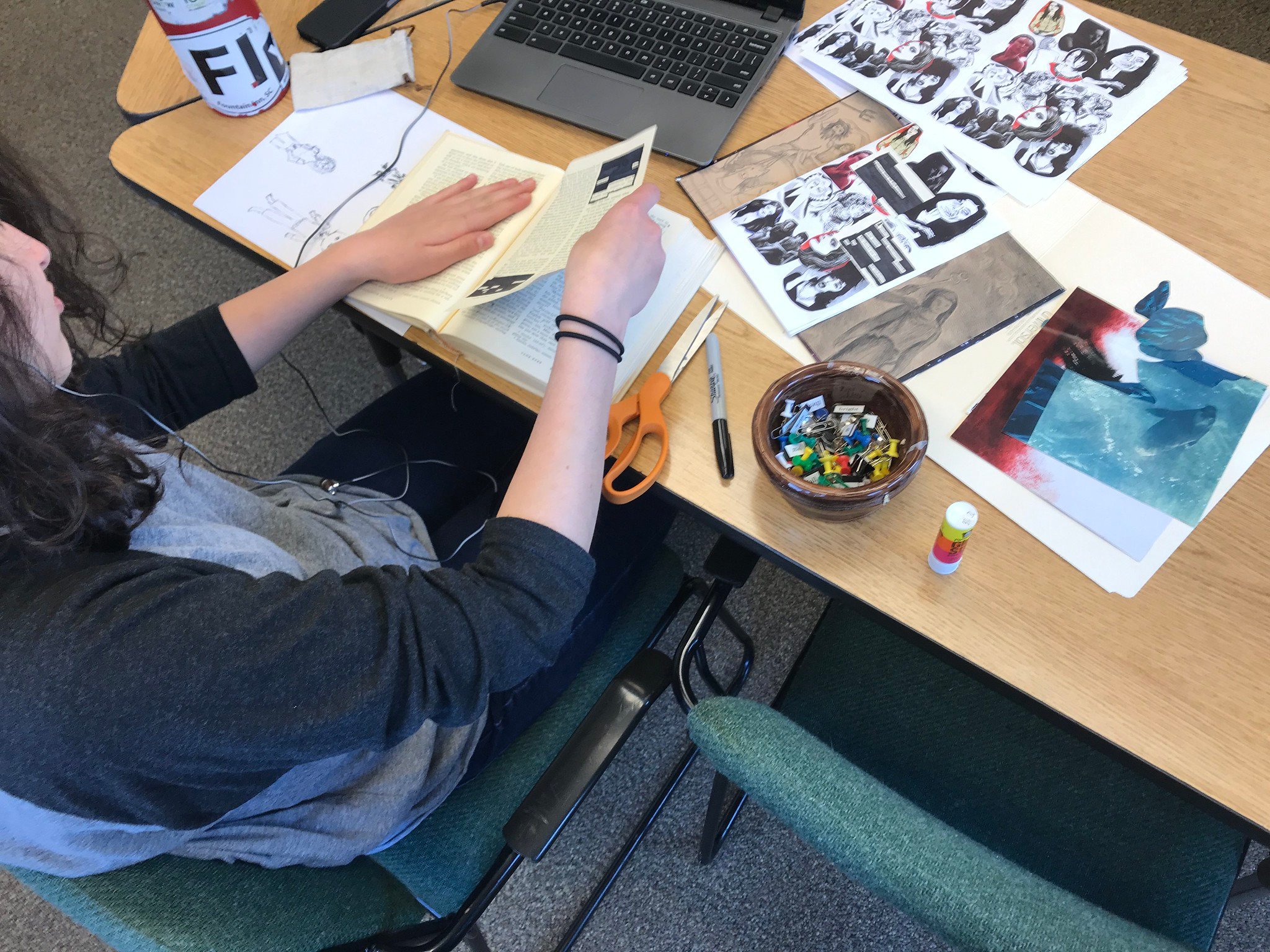 During our electives classes at Rock Point, students get a chance to learn and practice skills that go beyond traditional academics. Playwriting, photography, makerspace, and stained glass are regular offerings during this 45-minute morning class. Students produce beautiful creative work, learn new skills, and experience the process of executing an idea. Two years ago, we added a new course to the electives roster, zines.
Zines as a New Learning Option
Zines are "noncommercial, often homemade publications usually devoted to specialized and often unconventional subject matter." The elective started as a student's idea; a zine-admirer, artist and poet, the student wanted to try her hand at making a zine of her own. I jumped at the chance to guide her in this process, and to learn about zine-making alongside her and classmates.
The elective has been a huge success. It provides a fun and creative space, where students who are busily clipping magazines, drawing cartoons, and playing with fonts for their poems, also open up and have great conversations. It brings together many different forms of artistic talent and interest, allowing students with a wide range of skills and abilities to take part.
Many students who have been hesitant to share their poetry with a wider audience have found a safety in sharing in a zine format; they can tuck their words between their choice of photos and images, allowing them to feel less vulnerable about putting their work into the world. Perhaps most delightfully, zine-making is an inherently analog, hands-on craft. Even our most tech-savvy students, who spend lots of time making art on computer programs, are asked to pick up the scissors and glue-stick to design their zine pages. This allows them to interact with their art in a simple, sensory way, which we believe holds value even as they develop their computer-based art forms.
Zines in Education
I was thrilled when I found the article "Why Zines Need to Be a Part of Your Curriculum" a few weeks ago on the site The Art of Education, as it affirmed my experience that working zine-making into the curriculum is extremely valuable. As the author Raymond Yang says, "I see zines as an opportunity for students to serve at the intersection of maker, expert, and teacher." Yang, who is an illustrator, designer and artist, walks you through the explicit steps for making zines, as well as for working them into your curriculum. He discusses "the informality and ease of reproduction" and "the tactile nature of drawing and creating the book" that zines offer, and provides a great introduction for anyone wanting to explore zine-making in the classroom.
Although zines, journaling and creative maker activities are well-recognized learning, confidence-building, (and anti-anxiety) tools for teens, zines are also increasingly being used for learners of all ages. Zine workshops and classes are popping up across the country at writers' events, photography studios, art festivals, and public or college libraries.
Explore Zines!
I encourage parents and anyone who spends time with teens to incorporate zine-making into your activities. A quick search for "zine workshops near me" can get you started, or search for classes available at holiday and vacation locations. Zine-making is a great way for students to find their voices, take creative risks, and experience the confidence-building satisfaction of holding a finished product in their hands and knowing they made it!
Resources
Burlington Book Festival (Annual three-day event in late September. Often includes leading artists, writers, and workshops on zines and graphic novels.)
"Why Zines Need to Be a Part of Your Curriculum", The Art of Education
The Zine & E-Zine Resource Guide, University College London
Zine Machine: A DIY Magazine Primer (for library workshops), American Library Association