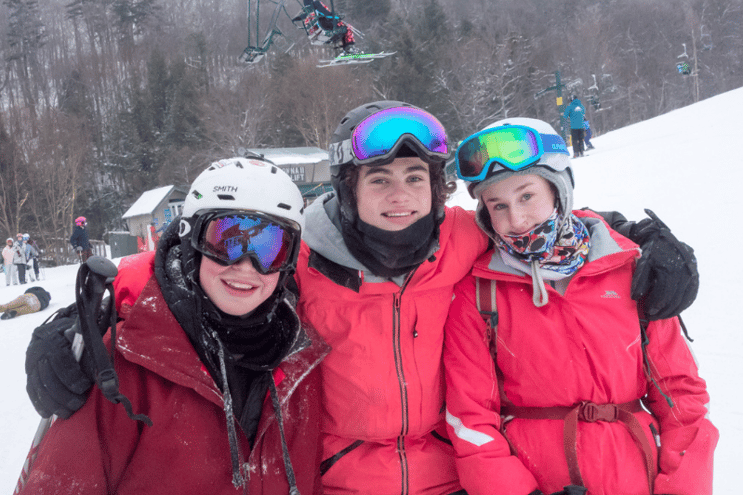 As temperatures drop, and the days grow darker, it can be a challenge to keep young people busy and engaged in healthy activities. Without the constant doses of sunshine and fresh air, teens are more likely to become restless, sluggish, and even depressed. Living with the realities of COVID-19, and the limitations it puts on what we can safely do together, the winter may be even more challenging. Every year, our staff members are thoughtful about how to keep things lively and active during the long Vermont winter. This year, we've been even more focused on finding creative ways to engage our students, while limiting our exposure to indoor public spaces.
Bundle up & Get Outdoors
There have been numerous studies that demonstrate the mental and physical health benefits of spending time outside, specifically in natural (as opposed to urban) environments. Research in the new field of ecotherapy has demonstrated a connection between time spent outdoors and reduced depression, stress, and anxiety. This is one reason why our Residential staff makes it a priority to get students outside in almost every kind of weather, as long as it is safe.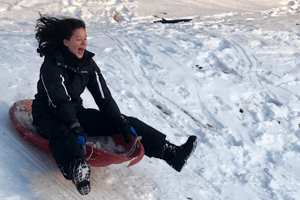 Of course that is easier said than done when you live somewhere with temperatures frequently dipping below freezing. One of our mantras is "There is no such thing as bad weather, only bad clothing." Learning how to layer, acquiring appropriate outerwear and footwear, and remembering your hat and gloves is a learning curve for a lot of our students, but with reminders and modeling from staff members, they learn the benefits of dressing appropriately for the weather. This guide from the National Ski Patrol gives some good tips on dressing for cold weather activities. Of course, we also prioritize acquiring winter gear at an affordable price. Between thrift stores, clothing swaps, and finding deals on new items, it doesn't have to cost a fortune to stay warm.
A few of our favorite outdoor activities for the winter, beyond the standbys of skiing, snowboarding, and sledding, are:
Campfires - Our students love hanging out by a fire, telling stories, and roasting marshmallows, no matter the season.
Snowshoeing - This is a favorite because it can be done anywhere, is a great workout, and doesn't require a lift ticket! Our students enjoy snowshoeing on campus or through any of the local wooded trails.
Winter camping - Winter camping can be intimidating, but there are a lot of cabins on the Long Trail that make it easier than building your own snow cave.
Building snow sculptures - This is one that gets teens in touch with their inner child. Our students do not limit themselves to snowmen. We have had every kind of snow sculpture from turtles to peace signs.

Getting Creative Indoors
This year, in particular, our students are spending more time in and around the school building. In some ways, it has brought us all closer together. Our students have surprised us with how excited they have been about activities on campus. One part of the program that we have amplified this year is arts and crafts. During down time, our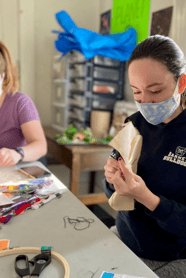 students have really enjoyed being creative and finding ways to express themselves artistically in a low pressure environment. Some of their favorite projects have been:
Painting flower pots and potting succulents to decorate their dorm rooms.
Tie dying everything from t-shirts to tapestries.
Creating stickers using our sticker machine from original drawings and just silly images they find online.
Students have also been getting creative in the kitchen! From trying pie recipes to sharing their family favorites, they have enjoyed cooking with and for their friends. Cooking is a great opportunity for teens to take some responsibility while also allowing them to share something they enjoy with others.
Plan Together

It can be tempting to make up complicated activity schedules for students on the weekend, but our staff has learned from experience that it's really important to bring student voices into the planning. Rather than guessing what will fill their time and keep them engaged, hold planning meetings together, ask them for input, and encourage them to take ownership of their time and activity. This will help students feel empowered, as well as giving them some practice using important skills like planning and following through.
Our students often come up with ideas that we would never have thought of! For example, one student wanted to have a banana bread baking contest, followed by a banana themed party. The students and staff loved baking their favorite banana bread recipes and everyone enjoyed sampling banana goodies at the party. Another thing that is often surprising is that students don't always want a flashy, complicated activity.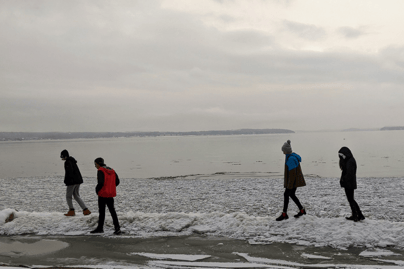 Sometimes they are looking for something quiet, like drinking tea and experimenting with watercolors (a popular weekend activity this fall).
Embrace the Difficulty