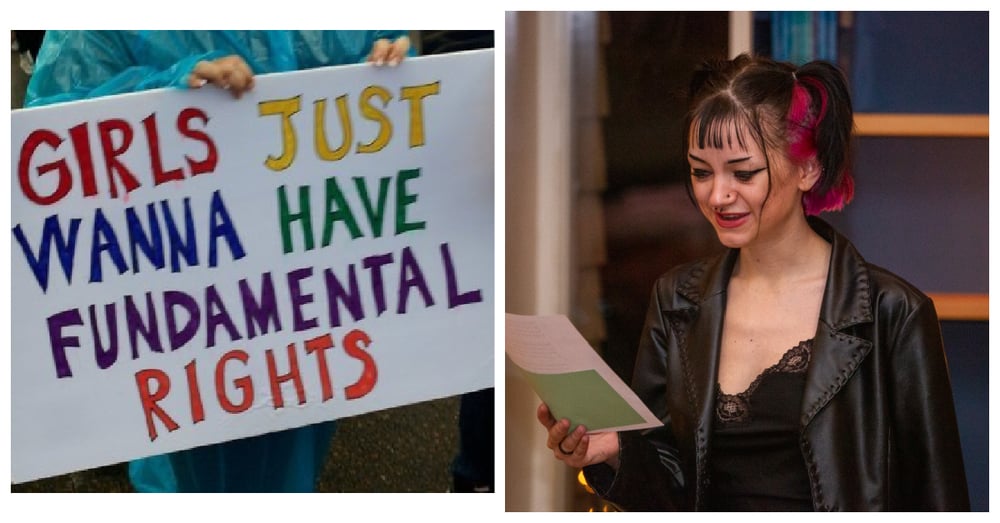 Every week the Rock Point School student community gathers for Reflections, a morning meeting involving conversation about the significant issues facing the world. Students are challenged to think about their beliefs and dialogue about their thoughts. Often students with a particular passion will volunteer to give a presentation. Our latest talk, on Feminism, was given by Frances '23.
In her own words, Frances says, "I chose to give this presentation to my peers because feminism is so commonly misrepresented in the media. I spend a lot of time reading and learning about feminism in all of its aspects. I realized that I didn't have a complete idea about what feminism really is, so others probably don't either. As a woman, I felt it was important and necessary to share what feminism means to me and why it is important."
For her presentation, Frances shared slides (click here to view them) to introduce some ideas about feminism and important figures of the movement. One of the culturally significant moments that Frances wanted to share was the Riot Grrrl punk rock movement of the 90s. Frances described her interest in the retro music movement this way, "I became interested in Riot Grrrl when I discovered bands like Bikini Kill and Sleater-Kinney. When listening to punk music, I was so used to male-dominated culture, and when I discovered Riot Grrrl I felt heard and like I could be a part of something, even if it's not the 90's anymore. The creators of Riot Grrrl fostered such a safe community for women in punk in a nationwide movement that still has an effect today. Women like Kathleen Hanna wrote powerful songs that tackled tough issues like rape culture, domestic violence, and misogyny. Riot Grrrl gave women a safe place to be themselves and to be listened to."
After her talk, Frances paired students to go online and find a particular feminist icon to investigate and glean 2-4 facts about them. "In the responses I received, I was surprised to see that so many people were so engaged and intrigued. I was not expecting such a positive response. People were so engaged, they wanted to learn more, they asked questions, and we had a phenomenal discussion. I was blown away by the positive response from students on a subject that is often seen as 'taboo," says Frances about the response she received from her peers.
We look forward to our students continuing this conversation started by Frances as the year continues.