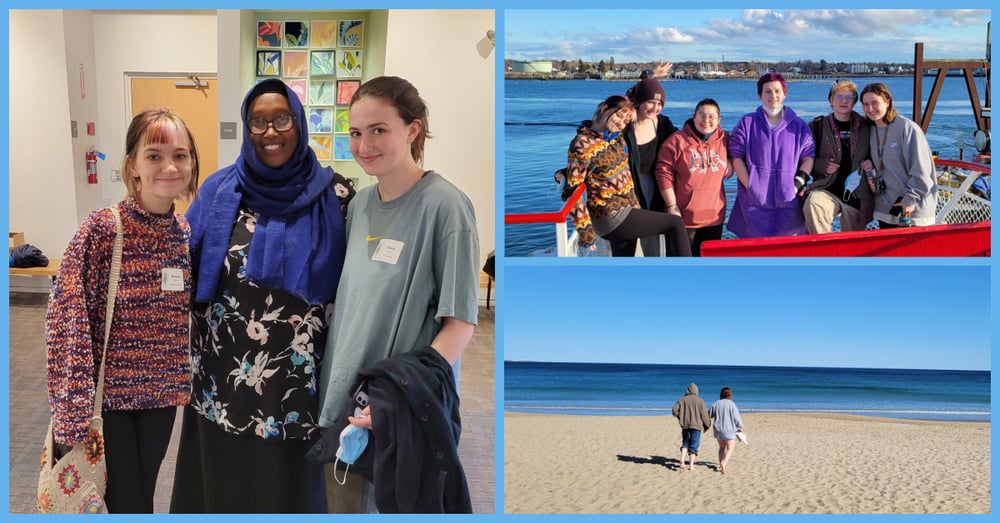 On April 1, 2022, five students and Residential Educator, Stanton Eddy, headed to Portland, Maine for the New England Youth Identity Summit. The goal of the summit this year was to build bridges and create a vision for strong multicultural communities. With the theme, "Tell it like it is. Make it what it can be," students were challenged to examine cultural norms and differences and imagine a better future for their communities.
The inspirational keynote speaker at the Summit was South Portland Mayor Deqa Dhalac, the first African-born female mayor in the United States! She was inspired by her father who fought for democracy in Somalia. Her career has been focused on community building, counseling, and education. Currently, Dhalac works as the Maine Department of Education's Family Engagement and Cultural Responsiveness Specialist, a position created by the current DOE Commissioner.
Our students each attended two workshops of their choice over the weekend. Workshops such as "Recreating Monuments" and "Bodies in Real Life vs. Bodies in the Media," generated lots of fodder for discussion and change. Bailey (grade 10) said of her experience, "I liked hearing other people's opinions and being able to see that I'm not the only one who has concerns about things going on around the world." Bringing students together from all over New England broadened the discussions and our students came home with some new perspectives.
While the Summit was definitely the highlight of this weekend trip, students also had a wonderful time staying with Tonia Winter, a friend of Stanton Eddy's from college, and her family on Peak's Island, just a quick ferry ride from the Portland Harbor. Tonia and her partner were so gracious to welcome the group to their home and the students loved walking their dog, Charlie, on the beach and hanging out in the hot tub at night.
Finally, on the way home, the group of travelers stopped at Ocean Park Beach to take in the wide sandy vistas and put their feet in the ocean. It was a peaceful end to a weekend filled with new friends, new connections, and new ideas.