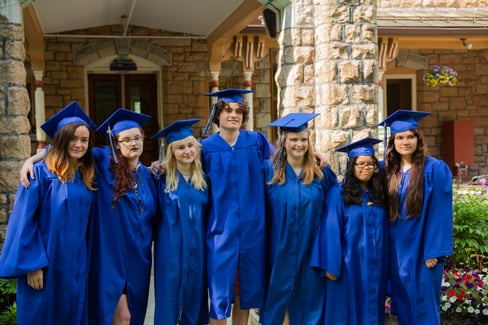 Our class of 2021 is filled with students who have challenged themselves in many ways in their time at Rock Point. From trying new activities to being leaders in the community, they accomplished so much! From left to right in the photo above, meet our graduates:
Shelley (from Vermont) started at Rock Point in March of last year, ten days before the Governor of Vermont closed schools! Despite only having a few days of in-person instruction, Shelley dove right into the community and fully participated remotely. In addition to being an excellent math student, Shelley participated in the CHILL learn to skateboard program and the theater program this year. Next year, Shelley will attend CCV to study accounting and work towards an actuarial degree.
Amaris (from New York) spent two years at Rock Point School, furthering her interest in writing and theater. Her curiosity and depth of knowledge were an asset in all her classes. In electives class, Amaris worked diligently on her creative writing, including writing a play that she then directed last year. Not only did she write and direct a play, but Amaris also performed in the school plays both years! We are excited that Amaris will be in Burlington next year, studying at Champlain College.
Chloe (from New York) arrived at Rock Point as a sophomore and we have loved seeing her self-confidence bloom in the past three years. Chloe engaged her fellow students as a leader in Community Meeting, Reflections, and by giving lunch announcements. She participated in the theater program all three years, slowly overcoming her stage fright and blowing us away with her comedic performances. Chloe's consistent academic excellence earned her a place at SUNY Cobleskill next year, where she plans to study Canine Training and Management.
Jeff (from Ohio) started at Rock Point during the Summer Session before his 10th-grade year. It has been amazing to see him grow academically and get several inches taller! Jeff is a talented artist and was often drawing when he wasn't snowboarding or playing frisbee. Two years in a row, Jeff participated in the Vermont Young Playwrights' program and had his plays selected for performance at the statewide festival. Next year, Jeff will be in Colorado at Denver University. We look forward to seeing how Jeff combines his study of business with his creative talents!
Ruby (from North Carolina) arrived for her senior year at Rock Point School ready to participate in the community! Although she was only with us for a year, Ruby did so much in her time here. She played frisbee, made stained glass, wrote and performed a play, and thrived academically. We will miss Ruby's cheerful disposition and willingness to chat with anyone who walked through the door. Next year, Ruby will attend Hollins College in Virginia and we wish her all the best!
Rebecca (from New York) started her junior year at Rock Point School somewhat reluctantly. Pretty quickly, Rebecca became an integral part of our community with her dry sense of humor, love for the school animals, and creative pursuits. Rebecca is a talented photographer and jewelry maker, and she was able to showcase her talents in the Art Show this year. Next year, she will follow her passion for animals by working for the ASPCA before taking her place at SUNY Cobleskill for a degree in Canine Management and training.
Cecily (from Massachusetts and Florida) attended Rock Point School in ninth grade and returned for her senior year. One of Cecily's talents is creative writing, and she spent much of this year working on a book. She has published her work online and has a goal of writing a "real" book soon! Next year, Cecily will attend Southern New Hampshire University to pursue a degree in creative writing. We can't wait to read what she writes next!
We congratulate the class of 2021 on all of the hard work they did to not only graduate but the careful consideration and time they put into making plans for their life after high school. We are excited to hear all about their adventures next year!