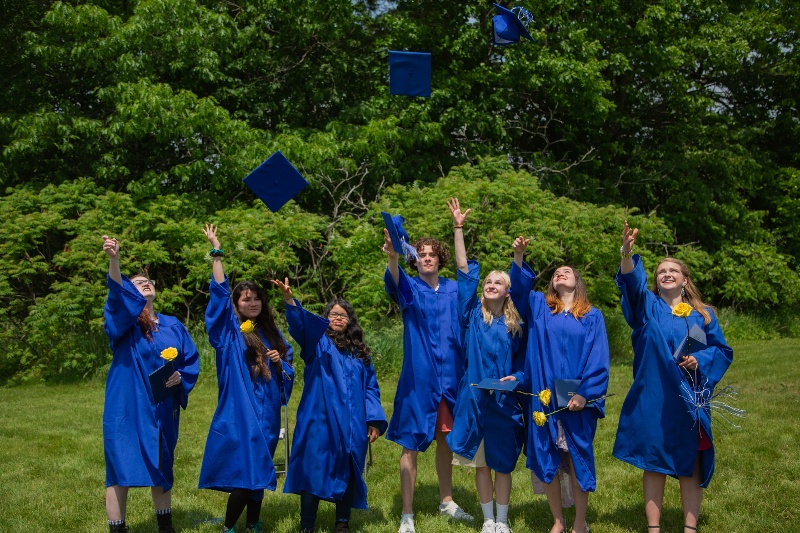 When people have attempted to describe this school year, we tend to end on one word: gratitude. We are incredibly grateful to have started school in person this fall and end the year with in-person graduation. This, as C.J. our Head of School said during graduation, was not an accident or good luck. This resulted from a year of wearing masks, social distancing, sanitizing, staying home (or at school), getting weekly COVID tests, and finally getting vaccinated. This was hard work, sacrifice, and dedication from students, staff members, and families. The community all worked together to make sure we stayed safe while still enjoying life at Rock Point School.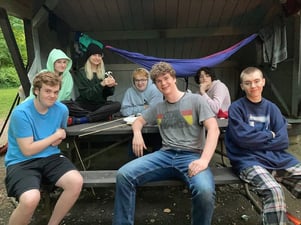 After having to go remote at the end of last year, we were thrilled to end could end the year with our three favorite traditions: the end of the year camping trip, the Night of Recognition, and graduation. Each of these special events helps our community gain closure from the school year. The camping trip is always a great way to celebrate the hard work of the school year, but this year it felt exceptionally well earned. We had a few hot days on Lake Elmore, perfect for jumping in the water! We brought paddleboards, kayaks, and floaties for everyone to enjoy. Other than splashing in the lake, the favorite camping trip activity this year was horseback riding! As always, we ended after our lobster feast on Thursday night with the "Rock Ceremony," which gave the students a chance to say words of appreciation to one another.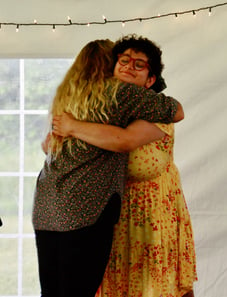 Night of Recognition is when we celebrate each student, acknowledging the work they did through the year, academically and personally. The goal of the evening is for each student to feel seen and appreciated for who they are and the progress they have made. One of the best parts of this year's celebration was giving hugs with the awards because all of the staff and students were vaccinated!
On Saturday, we held the graduation ceremony outside, in a tent for the first time in memory! We were lucky to have beautiful weather and an occasional breeze to keep it from getting too hot. Our traditional ceremony is Quaker style, meaning anyone who wishes to speak can. This year, the first speaker was Amaris, a member of the class of 2021. Her words address the most profound and most important work that we do at Rock Point School:
What is so wonderful about Rock Point is that we are all so very different. Everyone who has come here has been through their own stuff, and it has taken us down whatever path. Most of the paths were not very fun. But even just looking at my fellow graduates, I see so many different types of people, and instead of rooting those differences in hate and fearing them, we made a community out of it. It has been so special to come to a place where I have been accepted for who I am. I've always been me, that's not changing ... For the first time in my life, it's been celebrated. That has filled me with a joy I never thought I'd have. I always thought I'd be different and that being different was a bad thing. I always thought the price of sticking to my own path would be the loss of my happiness and living a fulfilling life. Rock Point showed me that it doesn't have to be that way. I know now I can find people who love and appreciate me as I am. … It really is something I will never forget … This has felt like a home.
As we go into summer, we are so grateful for the class of 2021 and the rest of the students who worked so hard to create such an accepting community this year. We hope everyone enjoys a well-deserved summer break!