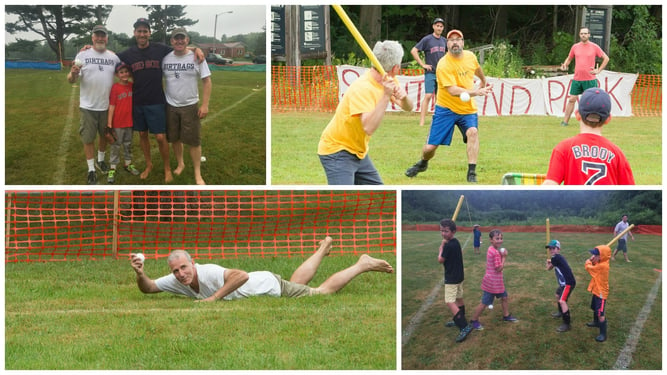 Our 19th annual Wifflefest was the best tournament to date! Reports of stormy weather were highly exaggerated. Luckily, there was no lightning, which would have stopped play. Instead, there was a warm rain in the morning, which couldn't dampen our spirits.
There were teams of all ages, ranging from our elder statesmen running for the world series trophy to mixed teams of parents and kids, initiating the next generation of wifflers. Balls curved and dipped. S
oggy and happy fielders
snagged some hits, while other shots sailed far into the bleachers.
The sun came out for our pot luck lunch and the post season games as we ended the day with two champion teams. First, "The Young Guns" won the Major League world series yet again, and then a new winner, the "Giants," took the Minor League title in an upset over perennial powerhouse, the "Beaneaters", who have played in all 19 Wifflefest tournaments!
This event is such an awesome way to close out the summer! We love playing and having fun with our extended Wiffle "family." Thanks to everyone who contributed to this event and raised $2,900.00 to benefit Rock Point School.
For more pictures from the event, visit our
Flickr album
. Thanks to Fritz S
enftleber
for taking photos!