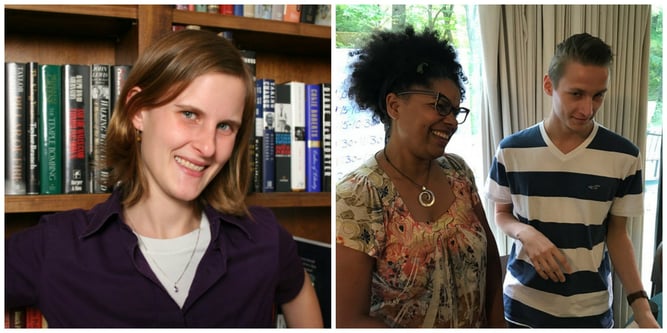 After the "Share Your Heart, Share Your World" poetry workshop run by Sundog Poetry this fall, our English teacher, Abbey Baker was inspired to incorporate more poetry writing into the school year. The idea of having professional poets come to the school for workshops was appealing to the students as well. So far, two poets, Lizzy Fox (left) and Ellen Bethea (right, with RPS student), have given workshops and we are hoping to host two more before the end of the school year.
Ellen Bethea, who visited in October, helped students envision themselves as artists and encouraged them to dive into the creative process. Lizzy Fox, who visited this week, had the students experiment writing a poem as a group. Both workshops culminated with a reading in the chapel where students as well as the presenters shared their work. Senior, Kelly, expressed his enthusiasm for the workshops, "Every time I go to a workshop like this it launches me into writing more poetry. I love it."
Our students arrived at Rock Point with varying levels of experience writing poetry, but for all of them, these workshops offer an opportunity to develop and share their writing voice. We are so grateful to the visiting poets for sharing their talents with us!