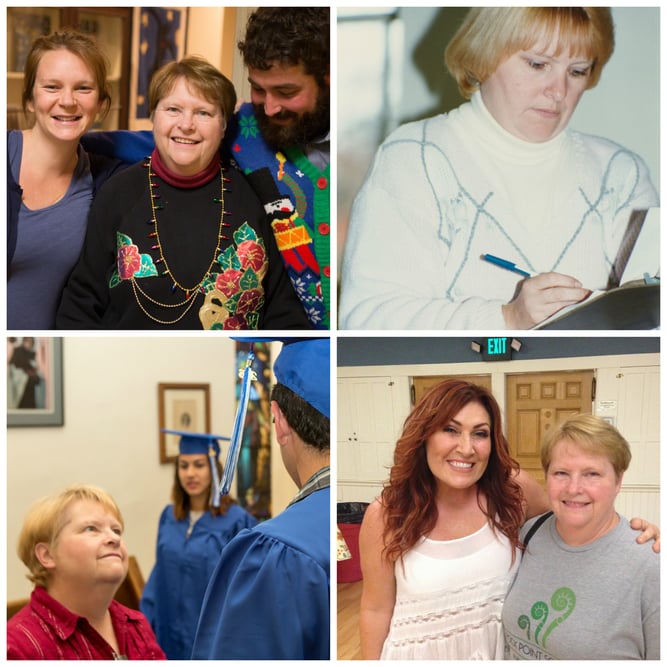 It's hard to imagine, but after 42 years, this June Lonnie will be retiring as our office administrator. If you have called the school, walked through our doors, delivered the mail, or fixed the pipes, Lonnie has been the one to greet you and make you feel welcome. In her time at Rock Point, she took on everything from book-keeping to record keeping to decorating the dinning room for special events. She is the engine that has kept the school running.
For those of you who know Lonnie well, you know she does not like to be the center of attention, so she has requested not to have a formal event to honor her 42 wonderful years of hard work. But we hope you will join us in paying tribute to Lonnie by making a gift in her honor to Rock Point School. Our goal is to raise $42,000, one thousand dollars for each year that Lonnie has worked here. Staff have already begun to donate. Any amount is welcome and meaningful! Keeping Rock Point School strong and supporting the student experience is the greatest honor we can give back to Lonnie for all that she has given to Rock Point School and each of our lives.
Lonnie has adapted to new technology - from handwritten notes to hand-held devices - but what has never changed is her dedication and love for the students, their families, and our staff. Everyone stops by Lonnie's office for a little bit of motherly care, cajoling, and maybe a piece of candy. For some alumni, Lonnie is the one person still working at Rock Point who remembers what they were like as teenagers! For others, she's the person they call to catch up with Rock Point news and share their own stories of new careers, relationships, and children.
We are also putting together a surprise for Lonnie and are looking for participation from students, staff, and families from all the years she has worked at Rock Point. If you would like to be involved, please contact C.J. at cspirito@rockpoint.org .