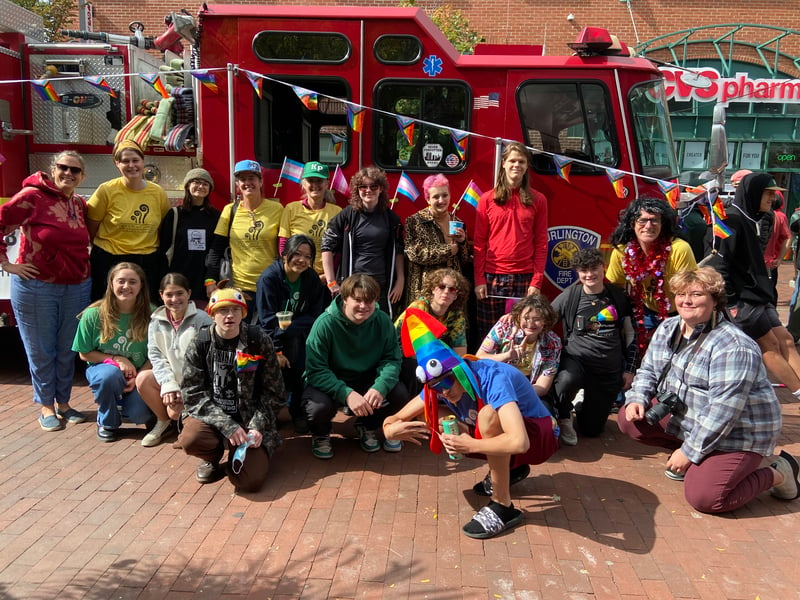 This year, our GSA was so excited to join teams from across the state to compete in the Outright Vermont Fire Truck Pull on October 1st! The Fire Truck Pull is an annual fundraiser for Outright Vermont to raise money for their mission to advocate for and support LGBTQ+ youth across the state. We believe strongly in Outright Vermont's work and have partnered with them for many years.
Not only do we love the work they do, but we also LOVE the Fire Truck Pull! Teams from schools, businesses, colleges, and more get together with wild team names and sparkly costumes to raise money and, ultimately, see how far they can pull a fire truck on Church Street. Our team included staff and students with colorful Rock Point gear. As a group, the RPS team raised $4,444! Outright Vermont exceeded its total fundraising goal and raised over $170,000!
I loved the fire truck pull, it was super meaningful to me in a lot of ways. It was amazing to see so many people in this community come together for the benefit of LGBTQ+ youth, especially the community response to the protestors. There were lots of protestors at this event going out of their way to be hateful, but the response of the supporters was covering their homophopbic signs with lovely makeshift signs such as "We LOVE Fire Trucks!" "Hooray Gay". I really appreciated the community's ability to react peacefully and still make this event a safe place, especially for kids. The community really truly PULLED for youth.- Frances, class of 2022
We look forward to participating in more events with Outright Vermont this year and want to thank them for all that they do for the youth in our community!