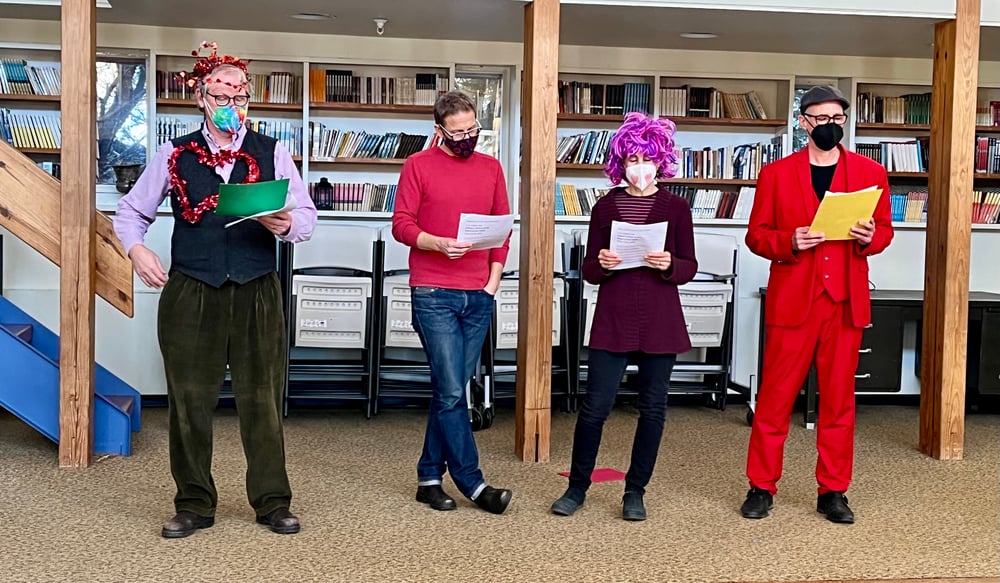 Each year our Head of School and his team of writers, including English Teacher Abbey Baker, compose a Valentine poem for the school. The tradition began twenty years ago with former Head of School, John Rouleau, writing a Valentine poem for the school with a rhyming couplet for each student. After John's retirement, C.J. kept the tradition alive with help from Abbey and College Counselor, Emily Skoler. On Valentine's Day, C.J., Gus Buchanan (History), Hans Manske (Math), and Hillary Kramer (Admissions) performed the poem wearing appropriately silly Valentine garb. This year we followed the poem with a sweet surprise - a Ben and Jerry's ice cream bar from the Quigley family!
You can read the first several lines of the poem below or click here to read the whole thing:
It's Valentine's Day and you know what that means
It's the time to receive love from heads, teachers, and deans
A time when enemies, who usually fight
Give up their sparring, if for only one night
The Bengals and Rams forgive interceptions and sacks,
and instead are all hugs and pats on the backs.
How better to celebrate this day at our Rock Point home
than to express our love for you in a Valentine's poem.
We've decided that diamond's the only gem-ma
That will be good enough to give to our valentine Emma
A grand and voluminous hubbub
is what we conjure for you red-hearted Jacob
If you're asking if we've got a valentine for you, it's a yes
And we'll trade you for some homemade goose jerky, Riley S.
Valentine's chocolates in every flavah
we hope would show you our love, PaisleighAva
We'll buy you a new piano if you'll sing to us daily
Our very own musical star and valentine Bailey
We'll send you an e-card – don't delete! It's not spam!
Instead it's our profession of love for you, Cam!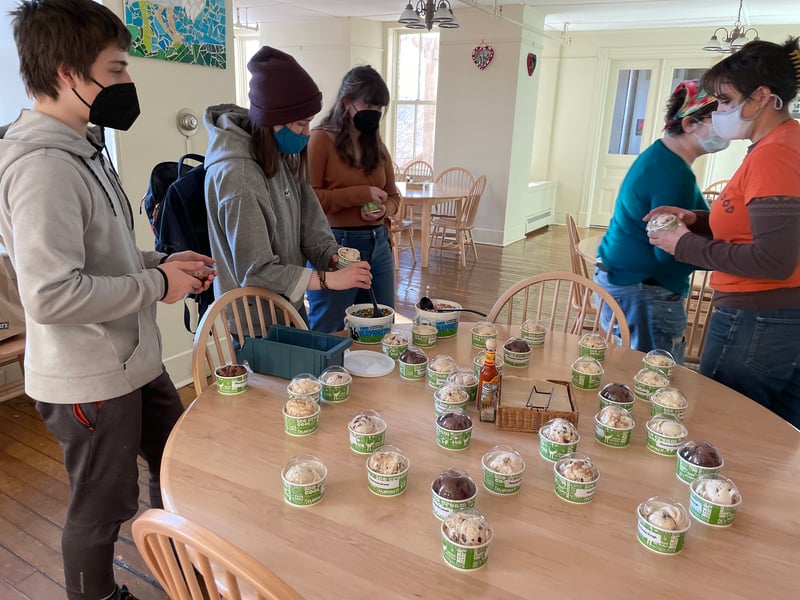 Students enjoying Ben and Jerry's ice cream after the Valentine Poem!