Last updated 08/04/20
Rock Point School is working to assure the safety of its staff and students in this time of COVID-19. We have a thriving remote summer program. Students are engaged in credit recovery, social connections, and college-application workshops. In the fall, we will reopen Rock Point School on-campus starting on September 13, 2020. As we all know, the guidelines for best practices are evolving and we will continue to adapt our plans as we get more information.
We are thankful the State of Vermont shut down quickly to slow the curve and has proceeded slowly and carefully to reopen bit by bit. With widespread testing, Vermont enjoys one of the lowest rates of positive coronavirus cases in the nation. We are following Vermont and CDC's recommendations for safely restarting on-campus in September.
Before students arrive
We are working on a Health Screening plan for both students and staff. The first step to keeping our students and staff safe will be testing students before they arrive, testing when they are here, and having the capability to quarantine, if necessary.
At this time, students traveling to Vermont can quarantine at home for 7 days and then with a negative test can come to VT and move into Rock Point, as long as they drive here. If they arrive via public transportation, they would need to quarantine for 7 days in Vermont, then get a negative test before moving into the building. Here are the details from the Vermont Department of Health regarding traveling to Vermont from out of state.
On-Campus
Once boarding students are on campus and have a negative test, they will be considered a household among themselves. This means that our boarding students will not need to socially distance from each other, will be able to take off their masks when they are only with each other and will be able to have meals together. Our activity planning for this year will prioritize safety and will aim to be very creative so that we can be on campus and avoid crowds and indoor spaces as much as possible. We will use the boarding school guidelines provided by the Vermont Agency of Education to determine our activities and programming.
Day Students
Day students, like staff, will be expected to wear a mask and remain six feet apart from boarding students and staff members as best they can throughout the school day. We will be following the guidelines from the Vermont Agency of Education.
Dorm Rooms and Classrooms
All boarding students will have single dorm rooms. We are redesigning our classrooms based on the physical distancing guidelines for classrooms. For larger classes, we will be using bigger spaces such as the library, the computer lab, and the dining room to conduct classes. We are looking at any way we may need to adjust the schedule and spacing of rooms, as well as our rules regarding mask-wearing, to ensure that students and staff are always safely distanced from each other and are following state guidelines.
Cleaning and disinfecting procedures
Hygiene and cleaning procedures will be posted in each room of the school building. Students will also participate in a training for keeping shared spaces clean as well as important practices regarding personal hygiene and staying safe from COVID-19. Students will continue to participate in work crews by organizing and cleaning. Staff and professional cleaners will be responsible for the sanitizing of the school building.
Quarantine during the school year
If a boarding student needs to be quarantined, we will house them in a private area. Rock Point School is in the process of assuring housing on campus nearby. We are also looking at how we can section off a part of the school building to be able to quarantine. Staff will take care of boarding students that need to be quarantined. We will work with parents on a plan that is the most effective and comforting to the family.
Full Reopening Plan
For more information, download our fully detailed reopening plan (PDF).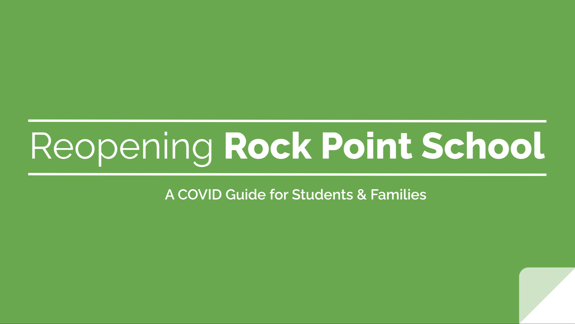 Covid-19 Resources
The U.S. COVID-19 Community Vulnerability Index (CCVI) from Surgo Foundation
https://precisionforcovid.org/ccvi
Centers for Disease Control and Prevention