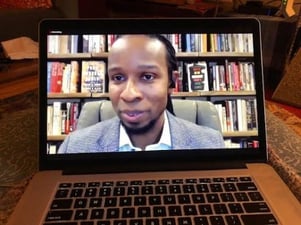 An amazing turnout of 9,000 attendees from 123 schools in New England participated in a webinar by Professor Ibram X. Kendi, Director of the Center for Antiracist Research at Boston University and author of How to be an Antiracist. The talk, titled "Go Beyond an Awareness of Racism: Contribute to the Formation of a Truly Just and Equitable Society," was sponsored by the Association for Independent Schools in New England, of which Rock Point is a member school.
Teachers, staff, and parents from Rock Point attended the webinar, and the following break-out discussions, last Wednesday evening. Professor Kendi answered a wide range of questions from member teachers and administrators from around New England. Key among them were whether independent schools, with their high tuition costs, can ever truly be inclusive; how to deal with the inevitable tension between these schools and their role in the communities in which they are situated; what the Trustee role is in promoting antiracist policies in the schools for which they are responsible; how do predominantly white schools in primarily white communities present racism in our country in such a way that it is understood emotionally as well as intellectually.
While Dr. Kendi focuses much of his work on the need to change public policy to root out systemic racism, he had thoughtful and instructive answers to what schools can do now to begin, or continue, their antiracist work.
If you could not attend and would like to view the recording, it is available for the next three weeks. Call Mary Hamilton in the RPS office at 802-863-1104, and she'll get you set up for viewing!