Academic Staff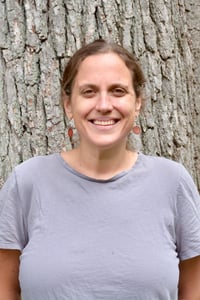 Abbey Baker – English Teacher – Came to Rock Point School in 2006
Abbey has been teaching English at Rock Point since 2014, and before that spent eight years working as a writing tutor. She has enjoyed bringing together her love of creative writing, literature, and working with young people. Some recent highlights of her job at Rock Point have included developing the Visiting Writer Series, running the school's Gender & Sexual Alliance, working with the Vermont Young Playwrights' program, and launching a zine-making elective for students to publish and showcase their creative work. Outside of school, she loves spending time with family, exploring Burlington, and trying to keep up with her students' pop culture recommendations.
B.A. English, Rhode Island College.
MFA in Creative Writing, Lesley University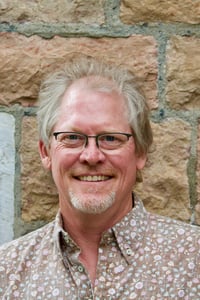 Gus Buchanan – History Teacher – Came to Rock Point School in 1987
Gus started at Rock Point School as a residential educator and developed an outdoor education and camping program while working in this capacity. In 1991, Gus was hired as the history teacher. As a result of his excitement and true passion for his subject, Gus is the recipient of a number of teaching awards and community accolades including The Corcoran Occupational Achievement Award (1998), Outstanding Teacher Award from UVM (2004) and the Herb Blumenthal community service award (2009). Gus is also a keen apiarist. He keeps beehives behind the school and supplies all the honey used in the kitchen. Students are exposed to bee keeping through classroom lessons, installation of hives in the spring, and harvesting in the fall.
B.A. History, Saint Lawrence University
M.A.T. History, University of Vermont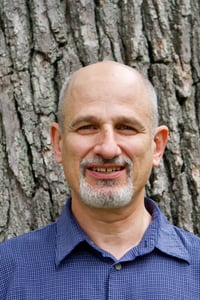 Michael Coleman - Math Tutor - Came to Rock Point School in 2019
Mike has taught undergraduate students in applied mathematics and mechanical engineering (including engineering graphics and design) at Cornell University and The University of Vermont. He is is passionate about the simple beauty of math and science and finding ways to bring it to life in the classroom with physical demonstrations and 'props'. Mike's research was in the areas of vehicle, human, and robot locomotion and his work took him around the US and to the Netherlands, Germany, and Finland. Most recently he has been the vice-president of E.A.S.Y. LLC, a company he co-founded that produces freehand drawing technology and learning materials for the blind and visually impaired. His experience in serving the blind community has been rich, varied, and rewarding, especially in joint advocacy efforts with the National Federation of the Blind. Mike loves working with students one-on-one, trying to adapt to their learning styles and finding ways to meet their learning needs in concert with them. Mike is a cross-country skier, biker, photographer, piano player, and artist in his spare time.
B.S.E. , Mechanical and Aerospace Engineering, Princeton University
Ph. D., Theoretical and Applied Mechanics, Cornell University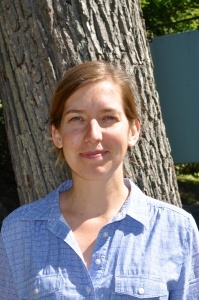 Marika Dalton – Science Teacher – Came to Rock Point in 2014
Marika has taught science in many different venues, including teaching undergraduates at Bates College, Johnson State College, and Michigan Tech. She's also taught summer youth classes in engineering and outdoor adventure. As a geologist and researcher, Marika has traveled all over the world visiting volcanoes, most recently to Iceland! She loves getting outside whenever she can, hiking, skiing, and kayaking. She can't wait to get students outside to explore science in the natural world.
AB Vassar College
MS and Phd from Michigan Technological University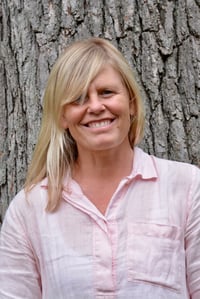 Marsi Foster - Special Educator - Came to Rock Point in 2017
Marsi has taught science at Rock Point, worked as a special educator in the Williston, Vermont public schools and has tutored in schools and at the Stern Center for Language and Learning. Marsi loves trail running, backcountry skiing, swimming and spending time with her family and friends. She is looking forward to helping students feel engaged with their learning.
B.A. Earth Science, Secondary Education University of Vermont
M.Ed. Special Education Saint Michael's College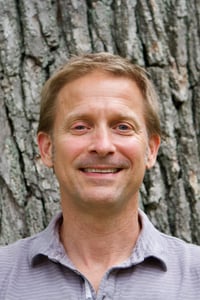 Hans Manske - Math Teacher - Came to Rock Point School in 2019
After college at Dartmouth, Hans moved out West to begin a career in science education, which found him teaching field courses in Sequoia, Yosemite, Yellowstone, Redwood, and Rocky Mountain National Parks. Hans returned to New England for his Master's, then moved to Burlington to help open Vermont Commons School where he designed the Environmental Science and Math curricula. After 13 years, he left VCS in 2011, after helping usher in a new leadership team. For the last six years, Hans has been the owner of SoYo Frozen Yogurt in Burlington's South End. Outside of work, he loves skiing in the winter, paddleboarding in the summer, hiking all year, and watching his kids grow up.
B.S. Earth Science, Dartmouth College
M.S. Environmental Geochemistry, Dartmouth College
Emily Skoler – College Counselor – Came to Rock Point School in 1993
Emily works with juniors and seniors and their parents to help them maximize their Rock Point experience and to plan for life after high school. She runs a seminar for seniors that guides them through applying to college or other programs. For many years Emily coordinated the academic program at Rock Point, and she continues to assist students with academic work. She loves seeing the transformation in students as they better understand and value their strengths. Before coming to Rock Point School, she worked for an ice cream company and helped to run a small home-care agency.
BA in English Literature, Harvard University
MFA in Writing, Vermont College
Jean Waltz – Art Teacher – Came to Rock Point School in 2000
Jeannie, an artist whose work has been well received in the greater Burlington area for over 15 years, teaches art history by introducing her students to prominent artists with colorful lives, and incorporates a hands-on art assignment, emulating that period in art history. A self proclaimed retro home and fashion aficionado, she also spearheads the set, props, and costumes for the annual play. Save the date for the Annual Rock Point Art Show, the first Friday in May!
B.A. Humanities and Fine Arts, Burlington College